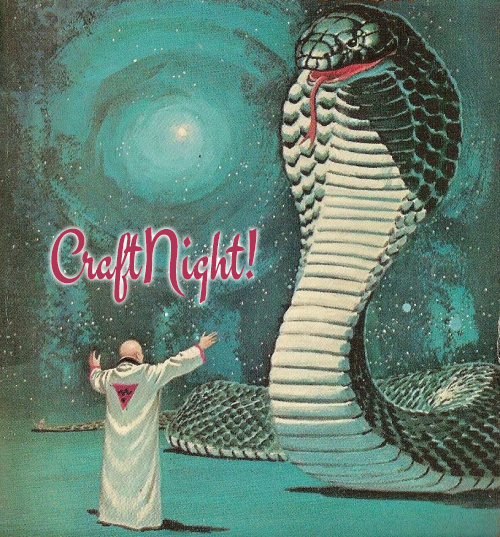 This Wednesday, September 27th at Akbar: 
9pm to midnight or later it's CRAFTNIGHT!!!
****Project: Autumn Leaf Necklace
*****$3 Donation Please 
******$4 Drink specials! Highwalkin', fastlivin', evergivin', coolfizzin' Akbar!
OPENING THIS FRIDAY: Pat & Charlie's Solid Gold Lamé Cabaret (read more below)
Farewell summer, it went by in a flash! And now it's time to flash some Autumn beauty this Wednesday by taking some time to gift yourself something special: a necklace made by you!  A cheerful happy-faced leaf is the centerpiece of this head-turning strand of shiny plastic beads: your red-carpet-ready choice for pumpkin season. It makes a statement wherever you go, a brilliant addition to any ensemble.
Because is it winter? NO!
Is it spring? NO!
Is it summer? HELL NO!
It's FALL, dammit, let it be known! Inspire and delight your friends, visit the apple farm, gather round the bonfire, complain about the government together, take a knee, fight for healthcare! Do it while sporting your spectacularly crafted cardboard leaf pendant and fetching shiny yellow satin cord, you might just catch the attention of  someone kinda special.
See you at the Craft Table,
JP Craft Captain
---
UPCOMING CRAFTS, EVENTS and MOARRRR!!!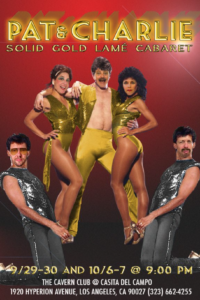 Opening THIS FRIDAY 9pm: Pat & Charlie: Solid Gold Lamé Cabaret directed by JP Craft Captain you can get tix and more information about this high impact adventure here.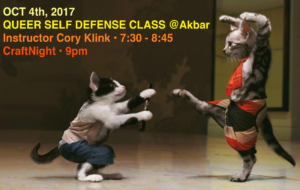 Oct 4th • 7:45pm – 8:45pm • CraftNight brings you QUEER FISTS OF FURY • Self Defense Class with Instructor, Cory Klink! Work on your balance, self discipline, and confidence while learning to protect yourself! Find out more and RSVP Here
Oct 4th • 9pm – midnight or later • CRAFTNIGHT • Attack of the Halloween Plush Pillow! – That's right, a terrifying personal pillow in the shape of a ghost, pumpkin or bat! It comes with a super easy sewing kit, stuffing, and felt pieces for gluing!
Oct 11th – Haunted Lasercut skull shape painting project!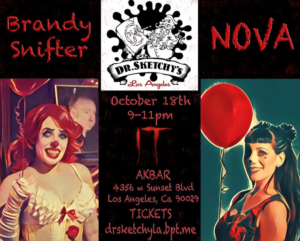 Oct 18th 9pm to 11pm – Dr. Sketchy returns with a really fun and CREEPY Life Drawing Assignment: Stephen King's IT! Get tix and RSVP HERE. CraftNight also begins at 9pm with somethin' halloweenie!

Oct 22nd – Sunday 7pm Bet Yer Bottom Bingo HALLOWEEN STYLE!!!
Oct 25th – CraftNight's Annual PUMPKIN CARVING Festival! Reserve a Pumpkin or BYOP!!!