TONITE! Wednesday, September 5th, 2018 at Akbar 'round 9ish to midnight (or later) it's CRAFTNIGHT! 


Craft Project: Paper Bag Puppets


*******$4 PABST/TECATES • $5 Cocktail Special: You Deserve a Break Today! 
*********$3 suggested donation, please!
It's after Labor Day, and we're letting go of Summer kicking and screaming. Tonight we'll make paper bag puppets, a classic activity, a way to be a friend and invent a friend in very few steps with much payoff. Paper bag puppets are great because they are compact, in that you can fold them up and take them anywhere.
Puppets are dorky, disarming, strange, dismissed… and still somehow, even in the 21st century, compelling, intriguing, heartwarming, ancient and intrinsic. Puppets have been around for thousands of years. Something primal in us just "gets" puppets. A paper bag can carry your lunch… or it can become a dear paper friend!
You never know when a paper bag puppet will come in handy for that job interview, or that Tinder date, or standing in line for tickets at the Wiltern. Puppets can be a buffer, an extension of ourselves, the imagined aspect of who we'd like to be: more confident, less critical, less distrusting, more understanding, more loving, less afraid. Make your puppet, put yer hand in it, and let it be bratty, let it say things you wouldn't, let it be good.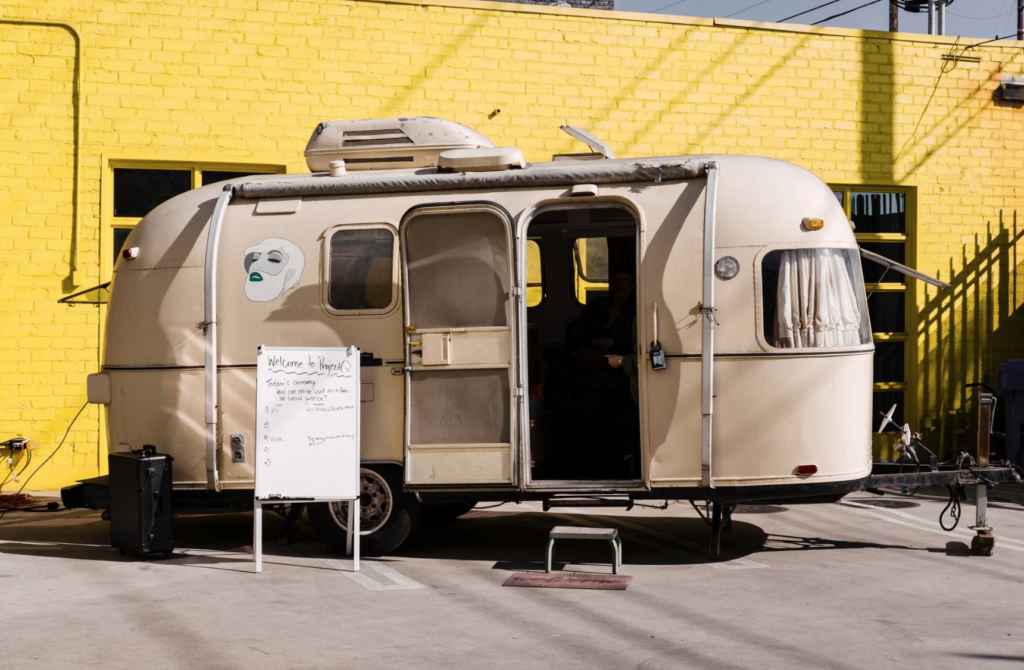 And speaking of BEING GOOD, I wanna ask you to donate to Project Q US Tour Fundraiser if you have a buck or two or ten. For the entire month of October, Project Q will be on the road with their trusty 'Hairstream' giving free haircuts to LGBTQIA+ homeless youth across America. Help them get to these smaller cities, find out more and please >>>> Donate Now!
See you at the Craft Table,
JP Craft Captain
---
UPCOMING CRAFTS: Sept. 12th: Printing Press Crafts, Sept. 19th: Sassy Apple Frame Craft, Sept 26th: Halloween Bracelet Craft, October>>>> HALLOWEEN CRAFTS ALL MONTH PLUS SPECIAL EVENTS and SURPRISES!!!!

UPCOMING SHOW SEPT 20 – 22nd@ Casita del Campo!: Time for the most sparkly, gay, naughty sexy epic journey with giant WIGS and all music from 1989! See it again or for the first time! Directed by yours truly, this tour de force of sequins, crying while walking, queer-undertones and shoulder pads is a gift you should give to you and yours this fall season. This is our LAST RUN, come get a chimichanga and a show! >>> MORE INFO and TIX HERE

UPCOMING BINGO: Sept 23rd at Akbar 7:30pm >>> Bet Yer Bottom Bingo brings you MuuMuus and Caftans Tiki-Time Fall Fantasy! We're giving summer the ultimate farewell by wearing MuuMuus or Caftans and bringing in that Fall Feeling with fun prizes, booze awards and MORE! FB Event Here!
CrafNight! 9pm • Wednesdays • Akbar >>> 4356 W. Sunset Blvd. Los Angeles, CA 90029 >>>>>> www.craftnightlosangeles.com