TONIGHT! Wednesday, Feb 3rd, 2016 from 9pm until midnight (or later) at Akbar, it's CRAFTNIGHT!!!
Project: Mardis Gras Masks 
$3 Processing fee, please
$4 Drink Specials at Akbar: The Only Way to Fly 
We want you to be prepared for Mardi Gras, which is why we've got some clever disguises for you. Wear one of these DIY masks, and next day, your boss can't accuse you of being the one in the middle of the fray, shaking your moneymaker, showing your bits and drinking with abandon. Paint and decorate it any way you wish, and then get out there, explore the world as another being, as someone or something else, unhindered by the confines of your regular identity.
Because with the disguise you wear, you are free, and no one can tell who you are, or what your job is, or what you love, or how you do your life, or what you've got in your wallet. There will be contrition and regret at times, but Fat Tuesday is not one of them. Fat Tuesday is for yelling "F*CK YOOOO!!!!" as loud as possible when they tell you to get off the table. Fat Tuesday is for eating ALL the donuts and being goddamn proud of it.
Mardi Gras is the largest masked party in North America, we don't want you to miss it. Wear your mask for ritual, for celebration, for the love of art and pageantry and showing off. Wear your mask in order to overturn conventions with style.
See you at the Craft Table!
JP Craft Captain
COMING UP: 

   
***February 10th CRAFTNIGHT – ANNUAL CRAFTNIGHT LOVE-IN!!!!
Ohhhhh the LOVE-IN!!! • Featuring the LOVE RAFFLE SURPRISE BASKETS • "Phantom of the Paradise" on the Akbar Jumbotron • Snacks • Limited edition magnet badge • Guaranteed Valentine from your Craft Captain • Music • Romance • Bromance • Sisters • Sinners • Love and all of its complicated meanings and feelings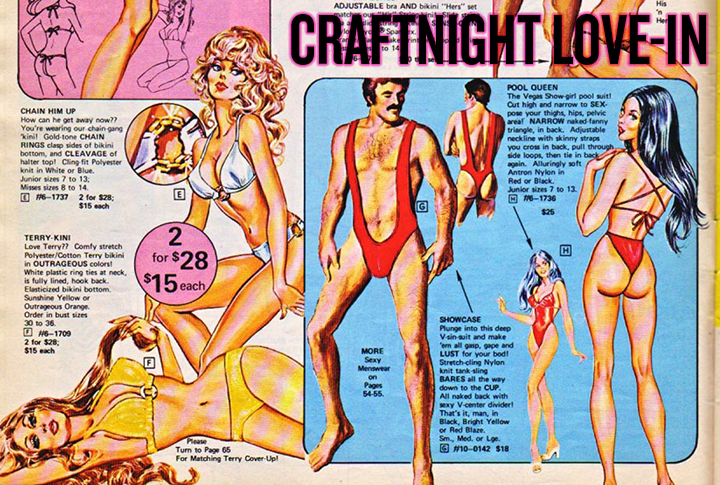 February 17th – Chinese New Year Neon Monkey Door Hangers
February 24th – Princess Ice Castles
March 4th – Adorable Finger Puppets

TUESDAY February 23rd BINGO: Tuesday 8pm to 10pm it's Bet Yer Bottom Bingo the night of fast and loose chances in your favorite bar with knock-out prizes and big bottles of booze! Boys, Girls, Balls, and that winning feeling!