TONIGHT! Wednesday, November 8th, 2017 at Akbar from 9pm to midnight or later it's CRAFTNIGHT!!!
****Project: MAIZE BEAD CRAFT! SO GOOD! 
*****$3 Donation Please 
******$4 Drink specials! Akbar: Hungry? We've got Drinks! 
Days are shorter, nights are longer, it's the perfect weather for meeting new friends or looking up old friends and spending time with both. It's a bonus night where, if you show up, you'll not just get a sumptuous bead craft depicting maize, but also an owl pennant that says "Happy Harvest" and instantly makes you smile because it's so powerful. Both of these items are so engaging and without pretense, that you'll forget your analysis and embrace their cuteness. They do that.
Next week, there's some Queer Self Defense, Hand Turkeys, Bingo, and Raucous Pie Party Plans, so check out the lower part of this bulletin to see what's in store for your month of November goodness.
See you at the Craft Table,
JP Craft Captain
---
NOVEMBER FUN!  
NOVEMBER 15th @Akbar:
7:45pm – QUEER SELF DEFENSE – FB EVENT DETAILS HERE
9pm – CraftNight HAND TURKEYS!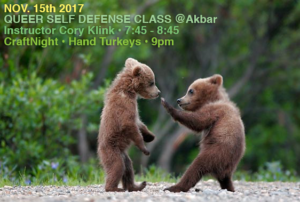 NOVEMBER 19th: SUNDAY 7pm @Akbar • Bet Yer Bottom Bingo Facebook Event Details HERE

NOVEMBER 22nd: NO CRAFTS! Akbar's Annual Dance Party: PIE!!! Facebook Event Details HERE