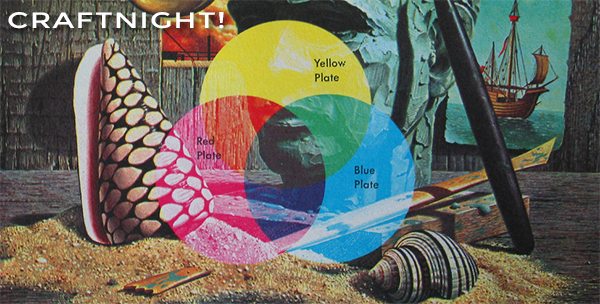 TONIGHT! Wednesday, April 19th, 2017 from 9pm until midnight (or later) it's CRAFTNIGHT!!!


Project: Science Sticker Symposium!

  


$3 Donation Please 




$4 Drink specials!

Akbar: The Only Way to Fly! 

   
Science is real so I illustrated SIX different stickers to help you spread the word! They involve terrible science puns, and they are fun to color in and then stick wherever you like. They are kind of DIY and kind of not, all at once. Why did I do this? The March for Science is coming up this weekend!
Here, read more about it, and register to march if you wanna:  (SCIENCE MARCH). 
What would cause brilliant, focused, quiet, researching nerds to lift their heads out of their findings and yell "WTF?!?" at the president?
For the last 20-30 years, it's been increasingly routine for the government to slowly but surely starve scientific budgets, compromise scientific research, and restrict what scientists do. Our new administration not only supports this trend, but is accelerating the process by brazenly and proudly sending the message that climate control doesn't matter, and science is dumb.
Here are just five key actions taken by the head honcho of 1600 Pennsylvania Avenue (oops, I mean Mar A Lago, Florida) in his first 100 days:
1.) Scott Pruitt picked for the head of the Environmental Protection Agency – This guy is a climate change denier, has long opposed environmental regulations, and is in the act of suing the EPA for the thirteenth time, this time over Obama's Clean Power Plan which aims to reduce greenhouse gas emissions from electricity production.

2.) Rick "Bonehead" Perry chosen as Energy Secretary – Another dude who questions weather climate change is real, and he's in charge of the nukes. Also, this is an extremely science-heavy department, usually run by physicists or engineers that Perry (not a scientist) advocated to eradicate back in 2012.

3.) Rex Tillerson is now Secretary of State – Hey, he's the former chief of ExxonMobile, a company that has been accused of hiding climate change from its shareholders for years. He's dismissive on clean energy solutions, and has consistently made big business choices that have stamped Exxon with prize title of "Company with the Second Largest Historical Carbon Footprint of All Time."

4.) The Trump White House has proposed slashing $1.2 billion from research grants at the National Institutes of Health and other health and education programs this year. This is a cut separate from the $5.8 billion NIH cut Trump is calling for in 2018.
People in power who want to to live fancy should really invest in science because science is the engine of prosperity! SmartPhones, yachts, flying cars and sculptural sound panels don't happen without LOTS of exploration and innovation.
But more importantly, science does stuff like curing illnesses, it combats climate change, it's trying to solve global hunger, it's working on creating alternative fuel sources. To cut funding for science is to cut funding for humanity.
You would think that no matter how money-grubbing and narcissistic some people are, they'd at least pretend to care about things like disease control, extreme weather preparedness and preserving the planet's finite resources. You know, because then they'd seem cool, but they can't even do that. They can only see through and act via a transactional lens, where profit is first prize, and people are fodder.
This is why it's time to speak up for science.
See you at the Craft Table,
JP Craft Captain
---
UPCOMING CRAFTS, ETC.

April 24th – Bet Yer Bottom Bingo! Spring Fling Edition! • Akbar • 8pm – 10pm • Numbers, balls, boys, girls, prizes galore!
April 26th – Luv Snail Photo Kit
May 3rd – Bus Craft! I know you want a 3-D paper bus, because public transportation ROCKS!
May 10th – Ship Craft! Saiiiiiiilin' takes me awayyyyy to where I'm goin….
May 17th – Paint-Yer-Own Flower Pot!