This Wednesday, September 12th, 2018 at Akbar 'round 9ish to midnight (or later) it's CRAFTNIGHT! 


Craft Project: Printing Press!


*******$4 PABST/TECATES • $5 Cocktail Special: You Deserve a Break Today! 
*********$3 suggested donation, please!
We're doing a super special technique using foam and fancy ink to make art prints and cards! We've NEVER DONE THIS BEFORE it's a NEW CRAFT OMG YAHHHHHH!!!
I'll have some printed out ideas in case you're overwhelmed by what to draw or make, the instructions will be clear and easy to follow. You can also cut out shapes and glue them onto a foam sheet and use THAT as your "printing block" to do a "matisse" inspired design.
If you've never been to CraftNight, I implore you, just come on in and try it. I'm really into "unplanned living" or at least trying to fit some in when one can. Things get busy, stuff stacks up, and the mind begins to feel too full, the list is endless. Once in awhile you just have to ignore the to-do list and do something spontaneous.
Every wisdom-oriented tradition says there are benefits to quieting the mind and finding ways to clear clutter in one's gray matter. This means that even in ancient times, people were stressing out about how to best kill a bear, or not get ostracized by a tribe, or figuring out what FIRE is… etc. And they extolled the virtues of finding time to take in the wonder of life stuff even when in the midst of building pyramids, or lashing sailor knots, or churning butter or merely trying to get down to the business of staying alive.
So this week I invite you to throw out all the fears, doubts, dreams, praise, logistics, statistics and things floating around in your brain… come in, and just: make a thing. It's inky, it's printy, you can make something for yourself or a friend, and you can be in the now, the here, instead of distracted by all the people, places and things crowding up your psyche. Oh and… we have cocktails to get that process started for you, lol.
See you at the Craft Table,
JP Craft Captain
---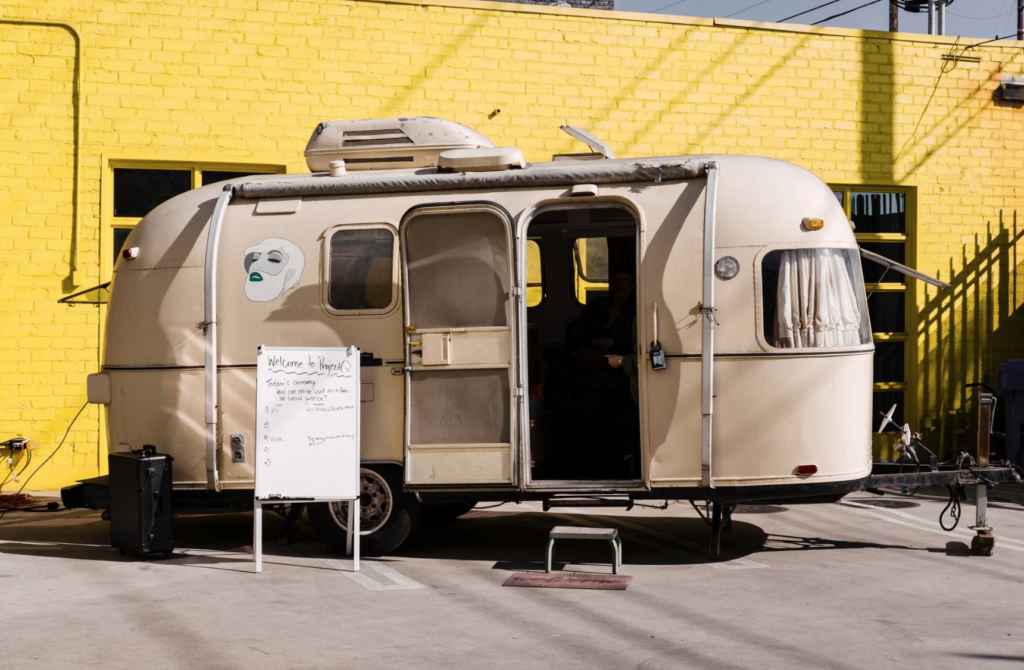 For the entire month of October, Project Q will be on the road with their trusty 'Hairstream' giving free haircuts to LGBTQIA+ homeless youth across America. Help them get to these smaller cities, find out more and please >>>> Donate Now!
---
UPCOMING CRAFTS: Sept. 19th: Sassy Apple Frame Craft, Sept 26th: Halloween Bracelet Craft, October>>>> HALLOWEEN CRAFTS ALL MONTH PLUS SPECIAL EVENTS and SURPRISES!!!!

UPCOMING SHOW SEPT 20 – 22nd@ Casita del Campo!: Time for the most sparkly, gay, naughty sexy epic journey with giant WIGS and all music from 1989! See it again or for the first time! Directed by yours truly, this tour de force of sequins, crying while walking, queer-undertones and shoulder pads is a gift you should give to you and yours this fall season. This is our LAST RUN, come get a chimichanga and a show! >>> MORE INFO and TIX HERE

UPCOMING BINGO: Sept 23rd at Akbar 7:30pm >>> Bet Yer Bottom Bingo brings you MuuMuus and Caftans Tiki-Time Fall Fantasy! We're giving summer the ultimate farewell by wearing MuuMuus or Caftans and bringing in that Fall Feeling with fun prizes, booze awards and MORE! FB Event Here!
CrafNight! 9pm • Wednesdays • Akbar >>> 4356 W. Sunset Blvd. Los Angeles, CA 90029 >>>>>> www.craftnightlosangeles.com