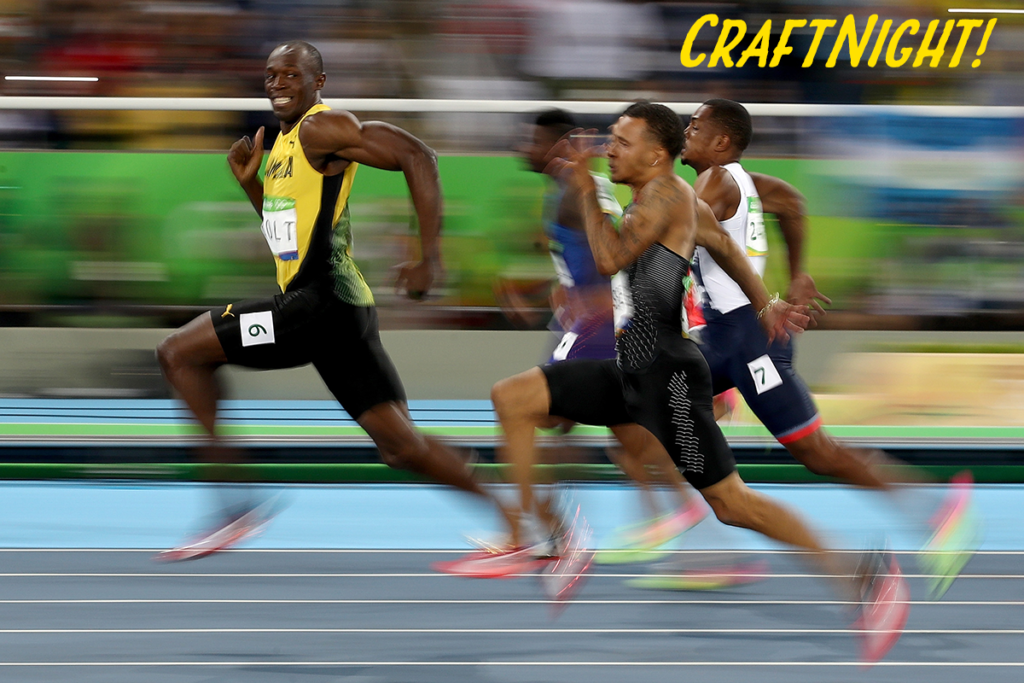 TONIGHT! Wednesday August 17rd, 2016 from 9pm until midnight (or later) at Akbar, it's CRAFTNIGHT!
Project: Necklaces of Success
$3 Processing fee, please
$4 Drink Specials at Akbar: Stock up on Cocktails for the Back to School Season! 
We've got necklaces necklaces, that's what we've got! I separated bead clusters into lil' kits, and you can pick which one you want! The pieces are bright and plasticky and will delight your inner ferret (you know, bright shiny objects, OOOOH PRETTY!). To accompany the candy-like baubles in your personal necklace kit will be even MORE colorful kickshaw to pick from on the counter of craft smorgasbord supplies!
I do declare, should you make and wear a necklace at CraftNight, your creation will undoubtedly act as an external arbitrary force affecting human affairs! You WILL get the promotion, your ice cream WILL stay ensconced in its cone, love letters and accolades will pile up at your door! SUCCESS! Come in and make a thing!
CraftNight is your friendly, weekly, arty opportunity to get to know yourselves and others through casual creative pursuit. But were you aware that CraftNight works under the umbrella of an arts non-profit called SparkleBlob? Underneath that umbrella are other happenings throughout the year, and our next endeavor approaches for the fall season, it's called Gothtober.
The Gothtober Countdown Calendar is a curated time-release flash-based online museum of 31 works of art by 31 different contributors. The official run of the show is from October 1st to the 31st, a new piece being revealed with each day of the month.The best way to see what it is though, is by visiting it!
Gothtober is looking for contributors, and applications are open until August 29th! We're looking for recipes, comics, tiny weird short films, music, slideshows, animations, crafts, performance, and whatever else you can think up! It's kind of like entering a film festival, but the content is multimedia.
Every age group and every level of experience is welcome to be a part of this annual collection of virtual treats, and we're always looking for new blood. Find out more below:
Visit the Official Gothtober Calendar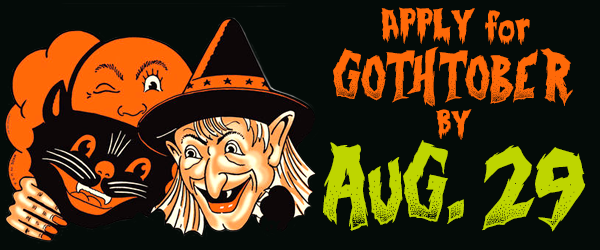 See you at the Craft Table,
JP Craft Captain

Coming Up in August I'm Hosting BET YER BOTTOM BINGO August 29th, 2016 • 8pm to 10pm • ELECTRIC MUUMUU BOOGALOO II 
BOOZE PRIZES: George Dickel and Virginia Black whiskeys, Patron XO Cafe Incendio, and a big ol' bottle of Ketel One Oranje!!! Delicioso!!! SIX Action-Packed GAMES of Girls, Boys, Balls, Booze! We'll be wearing fancy baggy muumuus to offset the high temperatures!
THIS THURSDAY
SORORITY: MOLLY! 
Gurl, go see it! The final installment of SORORITY: SUMMER OF LOVE MUSCLES, MONEY and MOLLY. Last show till Winter!
THIS FRIDAY
Tea House Music Night with Arshia Haq of Discostan, Nora Keyes & Nausea Filmmaker, artist, and DJ Arshia Haq will play a set of North African psych, trance, and folk 45 records in the tea house. Aliens L.A with Josef Kristofoletti and Rachid Bouhamidi on view. Special Performances by Nora Keyes and Nausea: (Andrew Dalziell)
THIS SATURDAY
SAM PANCAKE; HOT SWEET & STICKY 
Sam Pancake's (almost) one-man show featuring character monologues, storytelling and songs (featuring Sir Steven Wishnoff on the piano) performed in the intimate, air-conditioned, alcoholic-beverage allowing Cavern Club Celebrity Theatre nestled within the bowels of the historic Casita Del Campo Restaurant in Silverlake CA.
THIS SUNDAY
PIPES in the PARK 
A few of of our crafters happen to be hot, talented BAG-PIPING individuals! Some of them make up the totally amazing and wonderful PASADENA PIPES. Enjoy pipe band performances from the Pasadena Scottish Pipes & Drums Grade 3 band and the Kevin R. Blandford Memorial Pipe Band Grades 3 and 5, as they prepare for competition at the Pleasanton Highland Gathering and Games on Labor Day weekend.