TONIGHT at Akbar from 9pm to midnight or later it's CRAFTNIGHT!!!
****Project: National Park Coloring Postcards! 
*****$3 Donation Please 
******$4 Drink specials! Akbar: Spend time with the right people… us! 
Our National Parks turned 101 years old last Friday!!!
Our President basically wants to build a Chipotle at the bottom of the Mariana Trench!  Gross greedy jerks are trying to destroy our parks by opening them up to commercial development, mining, logging, putting satellite dishes all over the Grand Canyon and scooping out mountains to put high rise apartments.
The life expectancy of a squirrel is nine years. If we're not careful, our preserved parks and lands, forests, oceans and eco systems are going to disappear, and no one will know what a squirrel IS. Recent events have shown that climate change is happening, it's deadly, and causing great detriment. We're going to speak out in a crafty way and also discuss what else we can do to save not just the parks, but the planet.
I am making postcards of some of our nation's most precious National Park jewels, from the canyon lands, to the deserts, oceans and forests. You can color these in, and either keep it for yourself or a loved one OR mail it!!! We will have resources for you to view that will help you to write our government officials urging them to SAVE OUR NATIONAL PARKS which are in danger of being dismantled by dumbness.
Also: In lieu of recent events, I've been sort of wanting to hide in the basement with my BB gun. But I'm against that in principal. When Anderson Cooper asked Vice reporter, Elle Reeve, what was the most striking thing about her trip to Charlottesville, she said that yes, it was horrible, but there was something else. She said that the Alt Right was very organized. They had their own first aid, they had their own tiki torch handing-out station, they had their own security and basically, they had it together.
I want US to be that together. I want us to know how to save each other's lives, how to defend ourselves, how to act in an emergency. Therefore, our first crack at Craftivism Community Classes is gonna be a FREE presentation by the Red Cross on disaster preparedness given before CraftNight. Read below and RSVP to join me on September 13th for some community enrichment! I'll make it worth your while!
See you at the Craft Table,
JP Craft Captain
---
UPCOMING CRAFTS, ETC.
SEPT 6th 9pm – Mystery Bag Crafts!!! I'll hand you a bag… a mystery craft AND FORTUNE will be yours!
SEPT 13th • 8 – 9pm – EMERGENCY PREPAREDNESS WORKSHOP with the RED CROSS! – Topics include fire safety, general preparedness, earthquake stuff and more. This workshop is FREE to the Public, to make sure they'll have enough handouts, please RSVP here: https://www.facebook.com/events/1424680330959573/
SEPT 13th CRAFT 9pm – Metal Charm Apple Bracelet!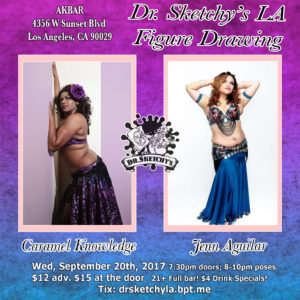 September 20th • 8-10pm • Dr. Sketchy's LA is BACK with "Turkish Delights" *** Live Model Figure Drawing & Cocktails*** Featuring:
Caramel Knowledge and Jenn Aguilar ***** TICKETS: http://drsketchyla.bpt.me/ **** $12 advance, $15 at the door ••• Facebook Public Invite: https://www.facebook.com/events/104409423631161
ALSO SEPT 20th CRAFT 9pm – First Day of Fall! We're making Autumn Suncatchers!!! 
SEPT 24th SUNDAY!!! – Bet Yer Bottom BINGO on a SUNDAY?!? Yes! Special Limited Edition Weekend Event! 
SEPT 27th CRAFT – Fall Leaf Necklace! 
Gothtober is kind of like a film festival, except in addition to films, it offers recipes, crafts, music and more. If you want to be a part of it, application deadlines have been extended to September 1st. Apply for Gothtober Today!