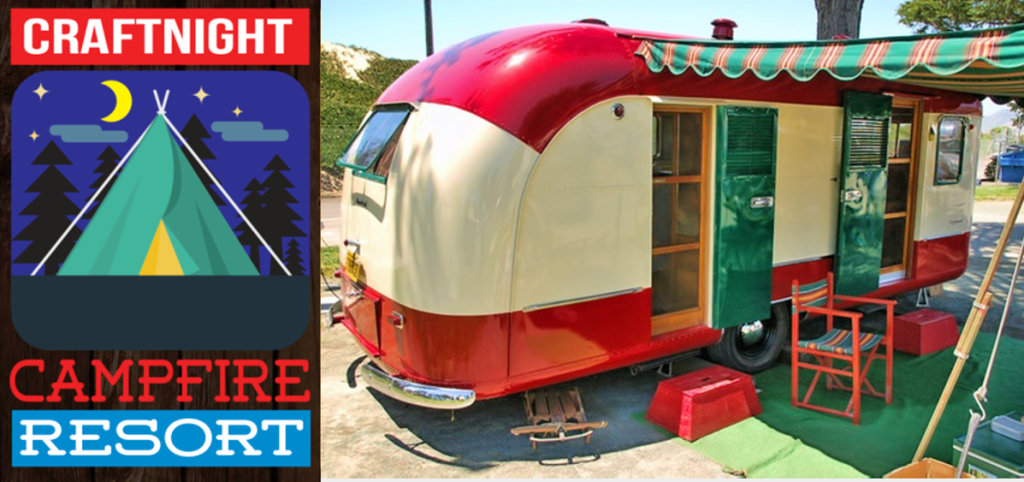 This Wednesday, August 12th, 2015 from 9pm until midnight (or later) at Akbar, it's CRAFTNIGHT!!!
Project: Snappy Trappy DIY Note Holders with CraftNight Resport Counselor and Lieutenant, Vero LeBron!    
RUMOR: The S'MORE GNOME WILL BE VISITING!!! (Want a s'more?) 
$3 Processing fee, please
$4 Drink Specials: Mama said there'd be days like this… 
CRAFTNIGHT CAMPFIRE RESORT IS !  
A Rip-roarin' rustic craft project awaits you this week, one you can really sink your teeth into, one that's pretty ingenious, thanks to Vero Lebron, who will be leading this week's CraftNIght! She will take you through the steps to help you make the coolest note holder YET. You'll be turning an every day object into a fabulous note holder!
Paint it, decorate it, put a magnet on the back of it, voila, your snappy trappy note holder will hold all of those annoying loose papers in the kitchen! It's a spot for receipts, a place for wayward postcards, you can keep one on your desk to keep track of forms!
Also, the S'more Gnome will be with us this Wednesday evening, making sure your sweet tooth is well-attended and given enough marshmallows, graham crackers, and chocolate. Nothing says summer fun like s'mores! You can tell everyone you went camping and you never went outside. If you TRY our "archery" game and you get a bullseye, you will a FREE DRINK!!!
See you at the Craft Table,
JP Craft Captain
PS- We will also have Resort badges for anyone who wants to earn them. You can get this week's limited edition badgex-, and you can also earn the Angie Cho Badge, the campfire badge, the Kenefick Mind Pavilion badge, and who knows what else…
www.crafthead.com
www.akbarsilverlake.com
HOT AUGUST NIGHTS 
CRAFTNIGHT RESORT'S UPCOMING CRAFTS:
***** August 19th – Wooden Planes! You Paint and Decorate!
***** Cork Crafts, Sewing Crafts, Assembly Crafts! Coming Up! 
***** Origami for your LIFE, simple and complicated paper projects!
BET YER BOTTOM BINGO ONE YEAR ANNIVERSARY!!!! 
AUGUST 25th • 8pm – 10pm • AKBAR • 50 Cents a Card ••••• What are we doing? NASTY BINGO!!! The night will sparkle with prurient pervy splendor! Prizes from The Pleasure Chest and The Stockroom, as well as big bottles o' booze will be ready for you, so don't be shy, gather all that loose change and come gamble at the gay bar!