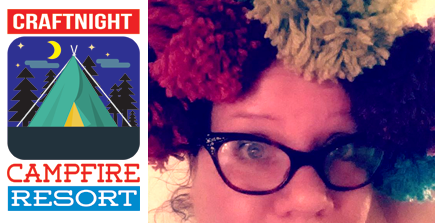 TONIGHT! Wednesday, Sept 2nd, 2015 from 9pm until midnight (or later) at Akbar, it's CRAFTNIGHT!!!
Project: Yarn Puff Creatures with Camp Counselor, Lori Meeker! 
$3 Processing fee, please
$4 Drink Specials: Save money. Live better. 
CRAFTNIGHT CAMPFIRE RESORT IS BACK TO SCHOOL! 
Learn to make yarn pom-poms from SCRATCH! And then make those pom-poms into creatures, monsters, a party string of poofs! Used to be if you wanted a pom-pom, you'd have to make it yourself. The process of making a yarn pom-pom may seem daunting, but not with visiting artist and camp counselor, Lori Meeker! She'll show you how to make fun and colorful poofs!
CraftNight will supply you with the yarn, pipe cleaners, googly eyes, gems, and other bits to make your poof into whatever you want!
We'll have music, drinks, treats, all the stuff you need for a relaxing evening of artsy-fartsy fulfillment. The world needs art more than you know, so get in here, turn off the phone, ignore your nighttime chores and give your brain some playtime.
See you at the Craft Table,
JP Craft Captain
www.crafthead.com
www.akbarsilverlake.com