TONITE! CRAFTNIGHT! >> WED • Sept 26th, 2018 • 

Akbar • 9pm to midnight (or later!)

 


Craft Project: Halloween Bracelet!


*******$4 PABST/TECATES • $5 Cocktail Special: Brews that are True! 
*********$3 suggested donation, please!
I do not care a FIG that it's still September, I have so many wondrous Halloween crafts for October that we're starting NOW. We have to start you off with some couture, dahling, we can't have you wandering around in your same old rick-rack, we must have an upgrade! I've got what you need to gussy up your seasonal plastic jewelry collection, our selection of shiny baubles is PERFECT for these emerging autumn soirees you'll surely be attending.
It is the night of the waning gibbous, the Harvest Moon came and went, it's light still illuminating the dregs of everyone's gardens. Changing moonlight calls to mind the changing nature of all the things.
We walk and drive around on a planet where small creatures fly above our heads and sing stuff. Colorful, juicy things grow on trees, you can eat some of it, it grows from dirt. There's running water just about everywhere you go, and if you want to, you can use that water to go wash the tiredness from your face WHENEVER YOU WANT.
It's true it's here it's now. It's a goddamn miracle.
You can always think there's bigger game to hunt, larger mountains to climb, a different "you" to build… but we like you right this moment just fine. Sweet person, you're worth it, come make a pretty trinket for your wrist. You can craft… for inspiration.
See you at the Craft Table,
JP Craft Captain
---
THINGS GOIN' BUMP IN THE NIGHT for OCTOBER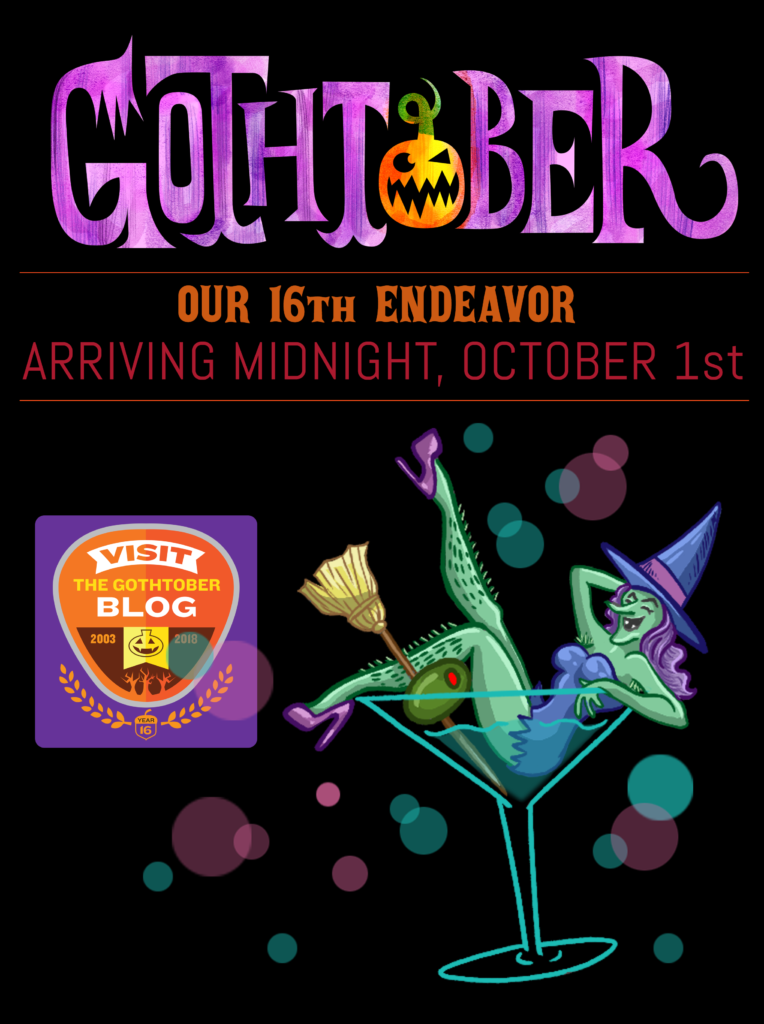 OCTOBER 1st, at midnight, we launch our ambitious annual project: www.gothtober.com 
The Gothtober Countdown Calendar reveals the work of a different artist EVERY DAY counting the days down to All Hallows Eve. Contributors work their butts off to bring you the scary, the silly, the strange, the macabre, the terrifying, the weird and wonderful best and brightest vignettes made for you to enjoy! So… you should look at it, since you don't have to go anywhere or do anything but click the above link and experience PUBLIC INTERNET ART that is hand hewn and FREE! I am the instigator and curator of this project, this will be our SIXTEENTH glorious bag of tricks-n-treats!
>>>>>>(Also… it's not censored, please screen Gothtober Pieces before watching with young-uns!) 
---

MONDAY OCTOBER 22nd at Akbar 7:30pm >>> WITCHY BINGO!!! • A LIVELY and lovely evening of gambling and Halloweeny FUN, complete with music, cocktails, gurlz, bois, ballz, and all that enthralls! RSVP if you DARE! >>>>FB EVENT INFO
CrafNight! 9pm • Wednesdays • Akbar >>> 4356 W. Sunset Blvd. Los Angeles, CA 90029 >>>>>> www.craftnightlosangeles.com