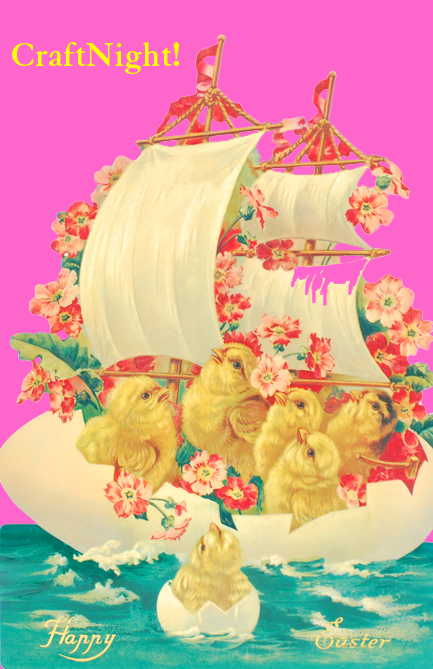 This Wednesday April 1st, 2015 from 9pm until midnight (or later) at Akbar, it's CRAFTNIGHT!!!
Project: Bunny Necklace AND Egg Hunt!  
$3 Processing fee, please
$4 Drink Specials to put a spring in your step!  
Want to find an egg with a TREAT in it? I hope so, because I've got some treats, and I got some eggs, and we'll have a small auxiliary spring time game for you to play. An egg is waiting for each crafter, and what's in it will be a token of CraftNight's appreciation just for you!
Our main craft is an Easter bunny necklace that will be a hit at any Easter appointment you'll be attending this Sunday. Spring is for bunnies, lambs and chicks, it's for tiny shoots of grass and puffy clouds, and blue skies! It's for cleaning out your spice cabinet, getting rid of old stuff in your drawers and getting new spiffy clothing for running around outside! You can officially pack up all that cold weather stuff, LA is warming up and gearing up for funshine.
EXTRA CRAFT: Tissue paper flowers for the upcoming WEDDING RECEPTION! From this point until the April 22nd, every CraftNight will be making tissue paper flowers for the festivities (in addition to that week's craft of course)! You're invited to help us out! Come and volunteer your hand at an old art!
UPCOMING
April 26th >>> Your Craft Captain is getting married, come to the reception at AKBAR!!! Bring your friends and celebrate Lesbian LOVE! There will be karaoke from 8 to 10, dancing, drink specials, lesbian antics, entertainment and legally wedded bliss. 8:30pm until 1:45am Woooo!!!!
APRIL 27th, 8pm, AKBAR >>> Bet Yer Bottom Bingo!!! Big Bottles of Booze and other prizes, it's your night of 50 cent bingo cards and a chance to win EXCITING ITEMS!!!
See you at the Craft Table,
JP Craft Captain
www.crafthead.com
www.akbarsilverlake.com