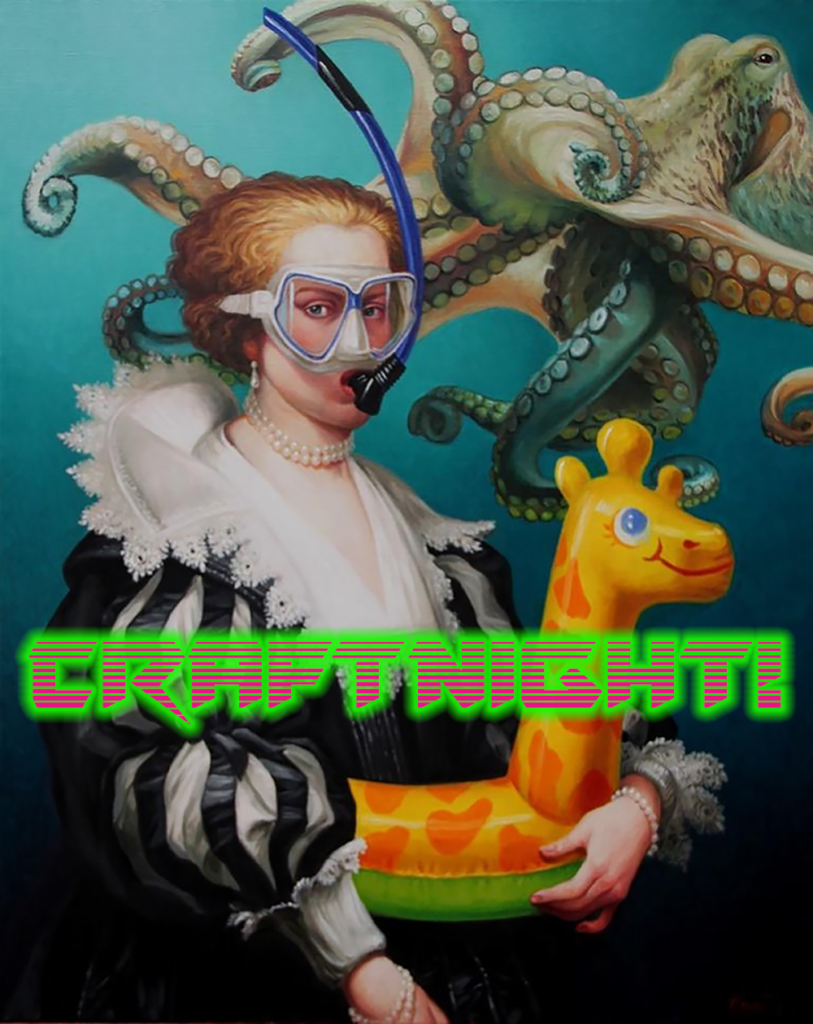 This WednesdayJune 29th, 2016 from 9pm until midnight (or later) at Akbar, it's CRAFTNIGHT. 
Project: Pasta Bean Mosaics    
$3 Processing fee, please
$4 Drink Specials at Akbar: The good life at a great price, guaranteed! 
Consider the lowly bean, and the lowly noodle.
Perhaps you've just been eating them mindlessly in a distracted way, but have you been really thinking about these food items carefully?
Perhaps you've just slurped ramen noodles into your face without a single thought about who made them, where they came from, and what they do for society.
You can keep walking past legumes and starches, or you can pause, and you can see these objects differently for a night, maybe even see them as ART.
Pasta and beans are usually unremembered, but not THIS night.
This won't be the first time we've made mosaics with pasta and beans, and it won't be the last. But even as I type this, in my studio, right behind me is a portrait of me that my friend, Kendra, made about 10 years ago, and it is one of the coolest things I own, and I cherish it. It's not so much that it's me, but the fact that she calmly sat there and put together a bunch of tiny, dried, perishable shapes together to make a visual idea.
I hope that pasta and bean mosaic-making interferes with your mind, and that your summer is enhanced by the experience.
See you at the Craft Table,
JP Craft Captain
Coming UP in Your Hot Hot City
JULY 3rd AKBAR 2pm: BEARS IN SPACE 7th Anniversary w/DJ Harvey!!!!
THE GRILLED CHEESE TRUCK• IRIS' PETITE BAKE SHOPPE • HUNTEES T-SHIRTS • LAG VINTAGE >>>>  Here's the FB Link to find out more
4th of July FIREWORKS (will be everywhere… but also here!) 
KJLH 4th of July Fireworks at Exposition Park Check it OUT 
Family fun, music and fireworks!! Food trucks, carnival rides and info booths!
Music Stages: Timothy Bloom, Joshua Ledet, Gourdan Banks, Andrew Gouche and Band of Brothers, Rory Darvel and the Ultimate Tribute to Prince, Shaun B, Zeia King and N'Sessions, Markees Williams and Divine Destiny and so much more!
It's FREE and Open to the Public!!!!!
PARTY at the AUTRY (Start of the Summer series!) 
Autry Museum's popular summer dance series, Thursday evenings July 7–August 18. All ages welcome, reservations recommended
6:00 p.m. Tacos and drinks available for purchase
6:00–8:00 p.m. Galleries and Autry Store open
6:30 p.m. Music begins
7:30 p.m. Complimentary dance lesson led by Enio Cordoba