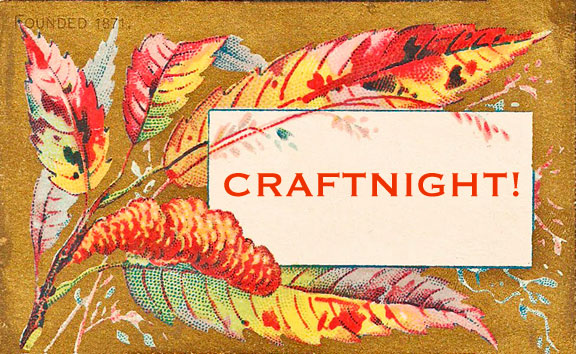 This Wednesday, October 3rd, 2012 from 9pm(ish) until 12(or later) at Akbar,  it's CRAFTNIGHT!
Project: CandyCornWitchMouseOrnament
$2 Processing Fee
$4 Cosmopolitans: If you 've got the time, we've got the cosmo.
Massage Therapist Sky on Duty: Bodywork Special: $14 for 15 minutes, try it!
Your Craft Captain is also Head Candy Corn of Gothtober.com so please visit the Gothtober Countdown Calendar and click on one of the 31 pumpkins for a special treat. It's basically an advent calendar, but for Halloween instead of Xmas. It's online, it's free, it's weird, it's completely in the spirit of something you shouldn't be doing, so therefore you should do it immediately.
October's bright blue weather is here, which means we're going to pack in as many Halloween crafts as we can, starting with the CandyCornWitchMouseOrnament. It's a Candy Corn. It's a Mouse. It's a Witch. It's an Ornament! It's a Mouse! It's an Ornament! It's a Candy Corn! It's a Witch! It's FOUR things in ONE! Can you handle it? It's a total multitasking megastar of a craft! You think you're busy? Try being one of America's favorite candies, as well as being one of America's most reviled pests, while also being one of the nation's most feared supernatural beings AND THEN bring it all together to morph into something everyone likes: a charming, non-threatening non-devil worshipping adorable tchotchke for home decor.
Have you friends of the spacey variety, hang this weird and cheery decoration on their doorknob to remind them that All Hallow's Eve is less than 30 days away!
More Fun to be had this week:
Texas Loves Lyla! (Akbar's own Jeffrey Wylie!) October 5th and 7th
See you at the craft table, JP Craft Captain