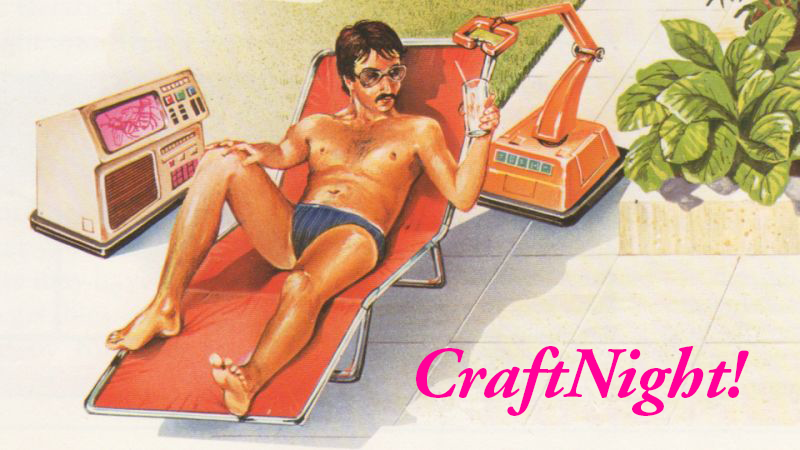 TONIGHT! WednesdayJuly 6th, 2016 from 9pm until midnight (or later) at Akbar, it's CRAFTNIGHT. 
Project: Relaxing Glitter Coloring Sheets    
$3 Processing fee, please
$4 Drink Specials at Akbar: Good times in every glass! 
I'm going to play easy listening, and we're going to settle in with some beautiful shiny glittery coloring sheets.
They have themes, these coloring sheets.
Some of them have foxes on them, some of them are about mermaids, others tell the story of the primeval world.
We're taking it easy, because the 4th of July weekend was action-packed!
Besides, there's such an emphasis on "blazing your own trail" and "re-inventing the wheel" and "coming up with your specially voiced plan" and I have every belief that we're all doing that… but sometimes it's just nice to not have to run every goddamn thing.
Sometimes it's nice to chill out in a basic way and relax!
So tonight, there is a decidedly uncomplicated project waiting for you at CraftNight.
Have a cocktail, experience the air conditioning, empty your mind of the day's kerfuffles, chill out with a chilled beverage, and color inside the lines.  
See you at the Craft Table,
JP Craft Captain
Coming UP in Your Hot Hot City
July Heat Superfun: 
AKBAR this Friday >>>> Jeff Rasul Presents: *****BUMP***** 10PM-2AM $5 Cover
A monthly dance party at AKBAR every second Friday of the month.
DJ Steve Cunningham • Spinning 90's House and Dance • Hot Go-Go Studs
PARTY at the AUTRY (Start of the Summer series!) 
Autry Museum's popular summer dance series, Thursday evenings July 7–August 18. All ages welcome, reservations recommended
6:00 p.m. Tacos and drinks available for purchase
6:00–8:00 p.m. Galleries and Autry Store open
6:30 p.m. Music begins
7:30 p.m. Complimentary dance lesson led by Enio Cordoba
AKBAR MONDAY, JULY 18th >>> IAN MACKINNON & TRAVIS WOOD present • PLANET QUEER: 4-YEAR ANNIVERSARY!
Doors: 7:30 PM• Show: 8 PM • $5 all night
Planet Queer is making its 4th orbit around the Sun! Come celebrate 4 years of Queer performance, art, music, dance and more!
SORORITY: The MONEY Edition 
The Lyric-Hyperion Theatre • Jul 21 at 10 PM to 2 AM • literary salon slash party vibes
wine, beer, coffee drinks and kombucha >>>> Readings and scenes from PROVVIDENZA CATALANO, AMANDA-FAYE JIMENEZ, KAIT SCHUSTER, INEZ PARRA, MALICE, PACO, RICH YAP, MEGAN AUSTER-ROSEN, ARIEL SHEPHERD-OPPENHEIM, SUJEY LEE COLON + MIA MALDONADO, and ASHLEY GRAHAM from san francisco!
GET TICKETS NOW!

MONDAY • JULY 26th • AKBAR • Bet Yer Bottom BINGOOOOO!!!!
Theme: MuuMuus and Caftans!
Our balls are getting steamy and tropical this month, and we will have glorious prizes for you!
Patron Cintronge, George Dickel Tennessee Whiskey, Tijuana Sweet Heat 100% Agave Nectar Tequila, Jim Beam Bonded Kentucky Straight Bourbon Whiskey!!! 50 cents a card, come support the arts and GAMBLE!