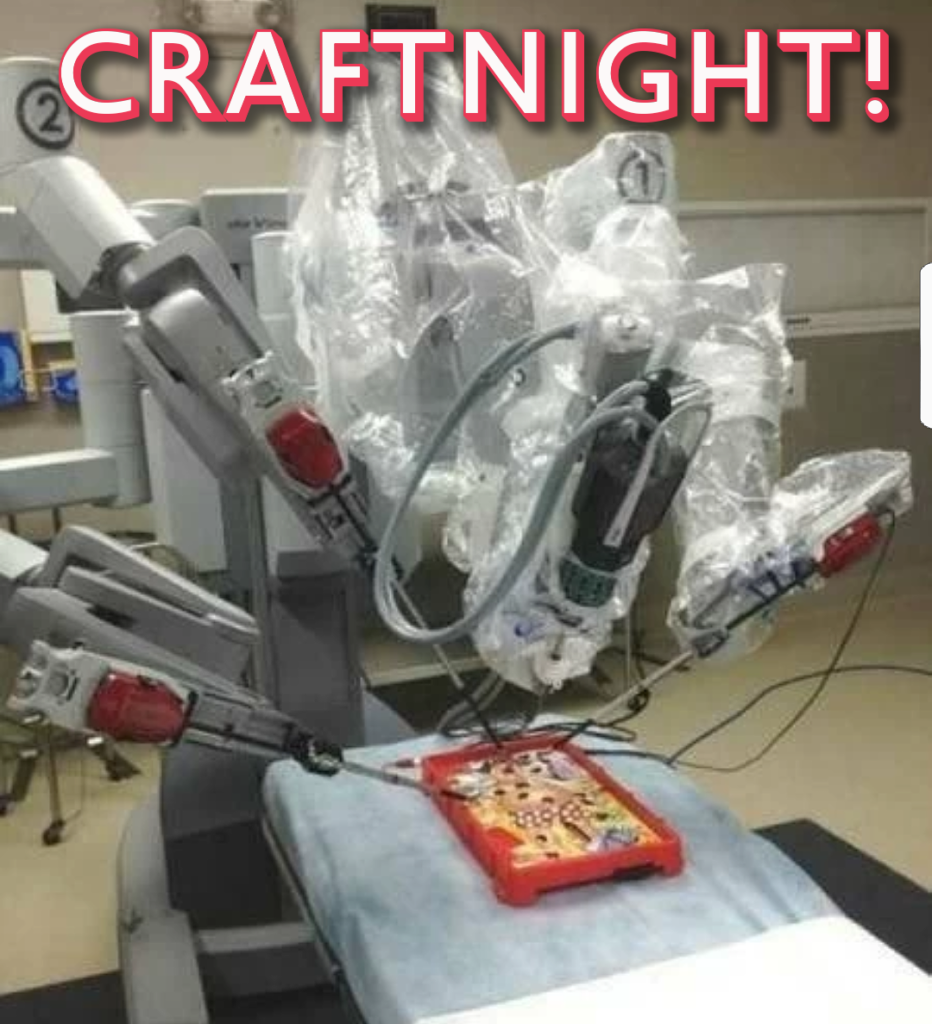 This Wednesday, February 14th, 2018 from 9pm to midnight (or later) it's CRAFTNIGHT! 




****Project: Crafts of Love 


*******$4 PABST/TECATE • $5 Drink Special for Lovers and Dreamers!  


*********$3 suggested donation, thank you for supporting the arts!

  


********* Lucky winners of my obscure trivia questions will win:

Tickets to YACHT ROCK REVUE at the El Rey Feb 17th!!! (Make no mistake, this is the FINEST tribute to soft rock in the city: It's comedic, talented musicians, but it's also an actual tribute situation that will make for a really wonderful evening.)
Crafts are gonna be Valentine-oriented, because I have cute choo-choos, spinny wheels, and love caterpillars and that's not all! It's been 73 years since Valentine's Day and Ash Wednesday have collided, which seems as good a reason as any to celebrate both. Let's do it all, hayyyyy. Here's whassup!
Every month is Black History Month OKAY? OKAY! But we'll be playing kickass 90s soul on the Akbar HI-FI because it sounds really damn good, and because it's crucial to educate, empower and sustain the achievements by African Americans and the central role of blacks in U.S. history. And I wanna dance with you to "Buffalo Stance" by Neneh Cherry.
Is Valentines Day: Invented by card companies, dumb if you're single, dumb if you're coupled, dumb anyways, too expensive, tacky, tawdry, materialistic, signified by stupid chalky heart-shaped candy, cursed with a dippy red and pink color palette, full of unreal expectations? YES!!! YES ALL OF IT!!! WHO CARES!!! 
It's so cool to poo on Valentine's Day, I implore you to just DO A LOVE THING because who wins if you do it? We need more love, just you know… make some. Do something good without getting caught, some kind of secret agent kindness no one can know. Forgive someone who pissed you off. Spend $10 on coffee for you and and a friend. Get your ass out and volunteer. Give your time. Give compliments. Listen to a long-winded family member. Notice someone who doesn't think they're noticable. Lift something heavy for somebody. Open doors. Call someone far away. CLIMB OUT OF YOUR BELLY BUTTON AND OPEN YOUR HEART. 
It's Also Ash Wednesday, which is a catholic thang, but one can still celebrate it in a nonsecular way. Many use it as a New Year's Resolution reboot. It's said that Jesus spent 40 days in the desert thinking about stuff, so between now and Easter, you've got YOUR personal opportunity to go into DEEP THOUGHT about your life JUST like Jesus, wow! Give something up: fatty snacks, criticism, sour patch kids, swearing, snapchat, smoking, religion, the news, etc.
And like WHY do that? Why suffer? Why have a difficulty when shit's already difficult? The conscious decision by YOU to deprive YOURSELF of something that may or may not be good for you is a way of forcing yourself to contemplate WHY you like that thing/action, WHY you do it, WHAT it does for you and how that effects the world, even in the most piddly way. What kind of space are you taking up on this earth? This holiday is specifically designed to make you get past any bullshit and self-denial you've been harboring. Flip the record and look at the B track. Who are you and what are your priorities, anyway? Find out!
If 40 days is too much for you, there's always Passover coming up in March, which is 8 days not 40, but no less contemplative and jarring in its own freaky way. If you'd rather shake hands with the devil, come see me at Bingo on February 18th (details below) and win glorious sinful prizes! Be bad! Gamble and support the arts!
See you at the Craft Table,
JP Craft Captain
---
WINTER SESSION 

FEB 18th – Bet Yer Bottom BINGO!!! Gambling, Winning, Singing, Drinking, Dabbing, Dotting, Laughing! Details HERE!
FEB 21st, FEB 28th – YES THERE WILL  BE CRAFTS YAHHHHHH!!!! We're relentless and forever, we're CraftNight.