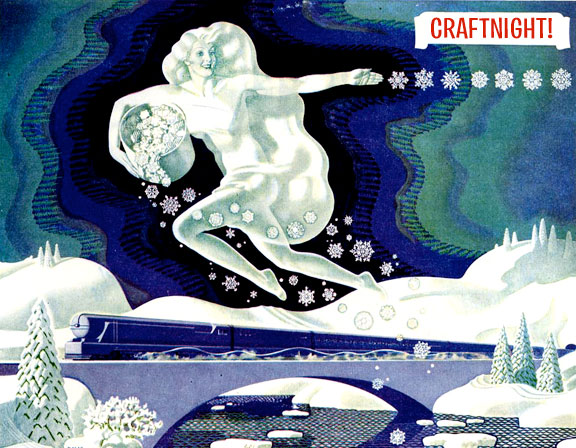 TONIGHT! January 28th, 2015 from 9pm until midnight (or later) at Akbar, it's CRAFTNIGHT!!!
Project: Paint-a-Snowflake
$3 Processing fee, please
$4 Drink specials, sometimes it's The Lyla, other times, it's something else, only your bartender knows for sure!
Winter's little messengers,
Gently floating from above,
Tiny white medallions pure,
Manifest to you… sort of…
Each so perfect, icy cold,
Beautifying Winter's face
But not in LA, please behold
This city brings no single trace.
So much for a Los Angeles snow poem, the slopes are open up in Mammoth, Bear Mountain, and Mt. Baldy's got 2 out of 4 lifts open, but only on weekends. Down here in the city we've got the most chintzy little winter reminders, everyone out in Boston thinks we're the biggest winter weenies they've ever seen! While the east is getting all the snowflakes, I thought we'd show some snow love and make some out here to keep us company.
I'll give you some tape and some time. Make a snowflake with the tape, paint over it with wintry colors, peel off the tape and WOW you have a snowflake! Make tiny ones, big ones, however many you want! We've never done this before, I'm excited to see what flakes shall take form.
See you at the Craft Table,
JP Craft Captain
www.crafthead.com
www.akbarsilverlake.com