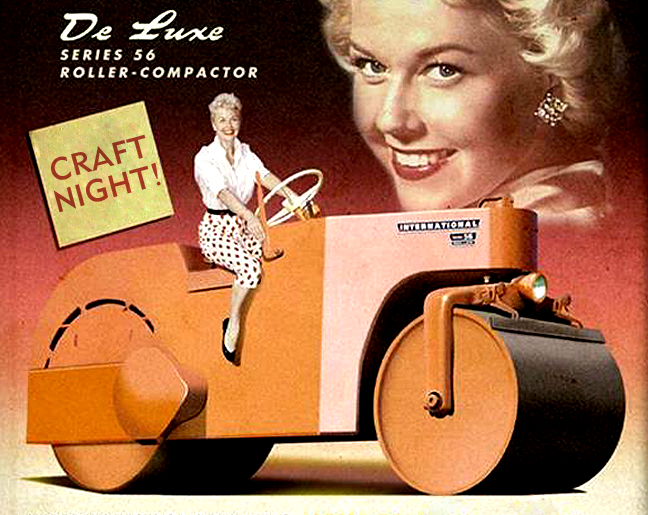 THIS WEDNESDAY MARCH 5th, 2014 from 9pm until midnight, at Akbar, it's CRAFTNIGHT!!!
Project: Paint a Pot, Plant a Seed
Processing Fee: $2 donation please
Drink Special: The Lyla >>> $4 of fun! (yes, that photo is of Doris Day on a steamroller) 
Pardon my Garden, the rain stormed in here, whirled everything around and suddenly it's March. The days are about to get longer, the sun shall soon return to what it was doing before it was interrupted by a ton of raindrops. That's when I saw all the little terra cotta pots on a shelf and knew immediately what we'd be doing this week.
I have a couple of terra cotta pot sizes, I've got small and smaller, cute as the dickens, suitable for covering in plastic gems, googly eyes, felt scraps, yarn, you name it. The ever popular colorful acrylic paint will also be here, and remember planter sticks? Those are those thingies you stick in the dirt next to your plant so you don't forget what you planted. They're made out of wood, also suitable for customizing in the manner you desire. 
JP Craft Captain
www.akbarsilverlake.com
www.crafthead.com
---
Just Another Boring Week in LOS ANGELES… 
FAT TUESDAY
The Original Farmer's Market is having it's 25th Mardi Gras Celebration, so much fun! Here's info and here's the flyer! 
Olvera Street is also having Mardi Gras on Tuesday from 9am to 2pm >>> Brazilian Dancing, kid mask workshops, piñatas!
ASH WEDNESDAY
FREE DAY at the Craft and Folk Museum! They also hold their own CraftNights, go see! Lots of ways to learn new things!
SELF-REALIZATION THURSDAY
Free to the public, the Self-Realization Temple's Gardens and Lake in Pacific Palisades are open Tues – Saturday
WES ANDERSON FRIDAY
The Grand Budapest Hotel opens March 7th
SHOE BLESSING FOLLOWED BY MEGA-GAYNESS SATURDAY 
Ian MacKinnon's Gay Historgy FEST!  For the first time ever all three parts of The Gay Hist-Orgy series will play together in one incredible evening.
If running the marathon… and you want your shoes blessed, go to Our Lady of the Angels and get 'em blessed at noon. $8 parking fee. Sheesh. Walk/Bike/Bus!!!
LA MARATHON  SUNDAY [[[Daylight Saving Time (United States) 2014 begins at 2:00 AM on Sunday, March 9]]]
Watch a ton of people running all over LA! I hear that runners can get a free super sloppy chili cheese dog at mile 5… 
IN THE NEAR FUTURE…  
Umbrellas of Cherbourg at the Nuart starting March 14th for an entire week!