TONIGHT! Wednesday, November 27th, 2017 at Akbar
9pm – midnight (or later) HAND TURKEYS with JP Craft Captain!
****Project: Snow BEINGS! (bobblehead photo holders) Top Hat, Carrot Nose, all of it!   
*****$3 Donation Please 
******$4 Drink specials! Akbar: The Gateway to Silverlake, and Great Cocktails! 
There are so many COOL WORDS for snow, none of them in English, take a look:
Tuyết – Vietnamese
Schnee – German
Baraf – Somali
Hukarere – Maori
Nix – Latin
Elurra – Basque
Xuě – Chinese (traditional)
I mean, snow's just snow, over here in the USA. We don't have lots of superlatives or renditions of this beautiful cold substance but we do have a penchant for singing a song about bringing snow to LIFE. It gets sung a LOT around this time of year. Remember Frosty? I'm sure you've heard that little ditty blurping out of some tinny ol' department store speakers or maybe you've heard it in a coffee show by now, as we're on the cusp of the December month.
I have a bunch of miniature wooden photo holder parts-n-pieces snow beings. I'm calling them "beings" because they aren't alive yet. The aliveness will be awakened between you and your craft when you build it, then and only then when you bring it to fruition will we know your snow being's name!
The head of this thing goes on a spring and bobbles around, it's CUTE! The fashion choices are somewhat lacking, however, so I'll have extra gems and felt on hand so that you can really gussy up an ensemble, should you deem it necessary. Give it away or exercise self-gifting this solstice!
See you at the Craft Table,
JP Craft Captain
---
DECEMBER IS COMING!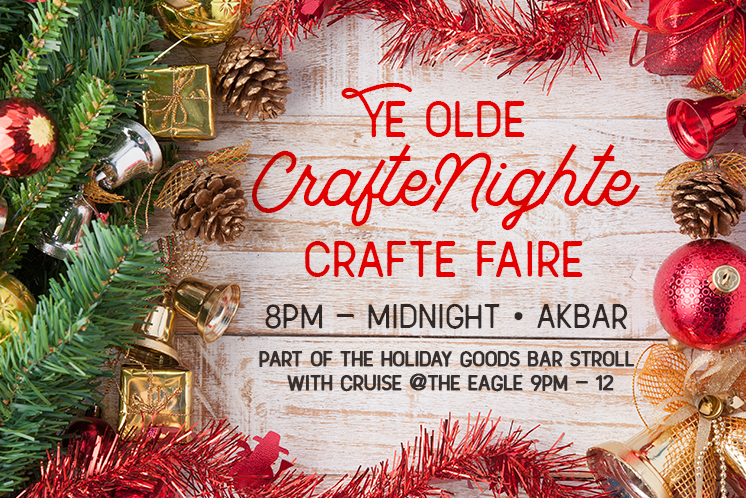 DECEMBER 13th: Ye Olde CrafteNighte Crafte Faire! Come to Akbar and get a hot cider with whiskey, then make a vulva ornament with the Audre Lorde Health Center, then shop for presents made by local vendors and THEN take a short walk to CRUISE at the Eagle and drink more and shop more!
It's all part of our little two bars, one night, extravaganza! Ye Olde CrafteNighte Crafte Faire FB Info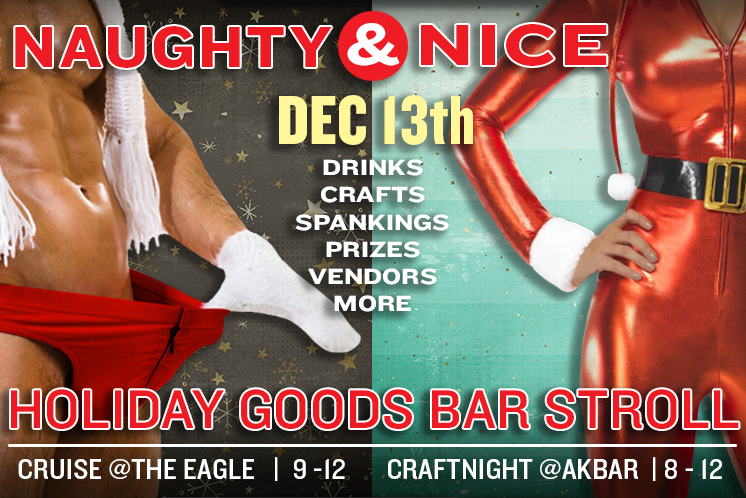 BET YER BOTTOM BINGO!!!! • December 17th • Akbar • 7pm to 10pm >>> FB LINK