TONIGHT!!! Wednesday, March 21st, 2018

at Akbar it's CRAFTNIGHT! 


8pm – Queer Self Defense with Cory Klink! (see details below)


****9pm CraftNight BEGINS! Project: Plush Spring Bird Lacing Craft! *** SPECIAL EASTER CHICKS WITH WIGS GIVEAWAY While Supplies LAST!!! ***   




*******$4 PABST/TECATES • $5 Cocktail Special, quite the value!  

    


*********$3 suggested donation, we're a scrappy non-profit alive because of you! xoxo 



It's a SPECIAL 8pm CLASS with Cory Klink, read all about it below for FULL DETAILS!
We then go back to our regular programming with the cutest felt bird lacing craft that you ever did see.
It's got tipped yarn laces, polyester fiberfill stuffing and self-adhesive felt shapes AND of course I'm putting out the extra felt so you can give it a fancy hat, a long beard, a fur coat, 16th century dungarees, whatever you want!
There will also be sparkles, googly eyes, puffballs, all the classic crafty smorgasbord items. So get in here and enjoy the cocktails, the camaraderie, the creativity and a lil' sanity in this big ol' city of Dodgertown!
See you at the Craft Table,
JP Craft Captain
---
SPRING CRAFT SESSIONS 
DETAILS ABOUT CORY'S CLASS TONIGHT! – Read below, yay!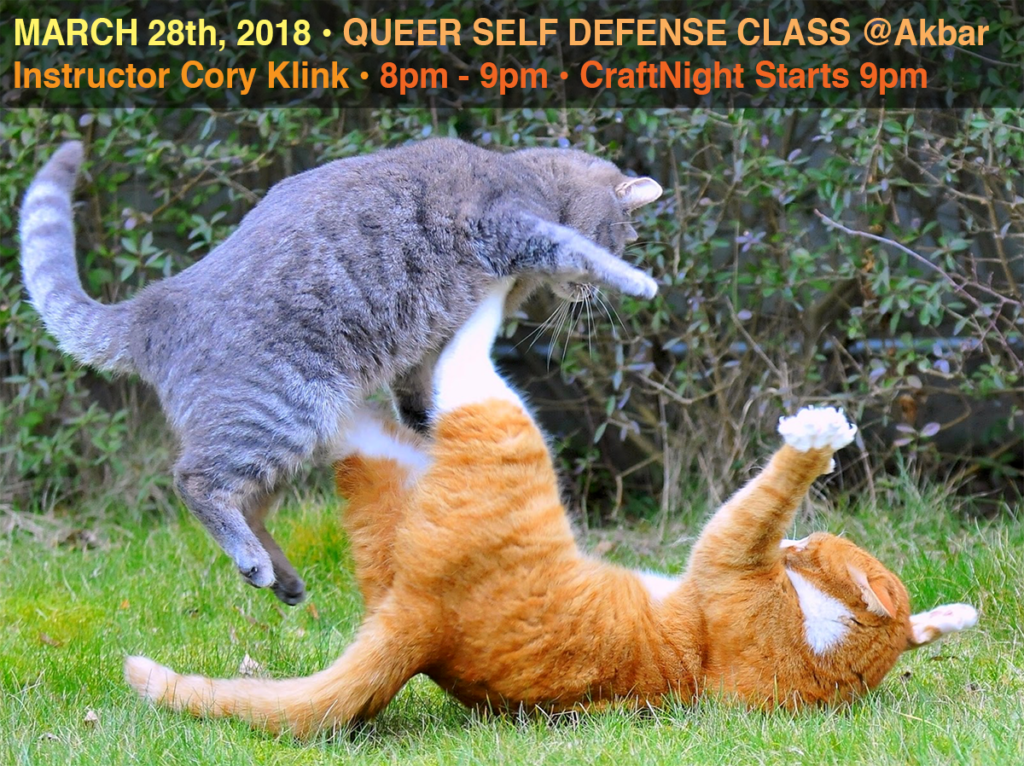 TONIGHT March 28th – Spring Bird Lacing Craft and AKBAR DOJO! SELF DEFENSE CLASS with Cory Klink! RSVP here on the FB Event! 
Bold Alchemy Queer Self Defense brings you the Protect Your Neck class!!! This 1 hour Self Defense class with Cory Klink will teach you how to use every day objects to defend yourself! Bring your favorite high heels, that crazy sharp crystal on your altar, or a good old fashioned baseball bat and learn to use what you have with you if being attached! We will also cover basic kicks, punches, stances and meditation. Students are encouraged to wear what they feel expresses themselves best and feels comfortable to move in. Bold Alchemy is a trauma focused self defense program that aims to empower, arm and heal queer, trans and poc humans. For more information about Bold Alchemy visit boldalchemy.com or email questions, comments or feedback to boldalchemy.coryklink@gmail.com
---
EVERYTHING'S COMING UP CRAFTNIGHTS 9pm Akbar, APRIL: 
4th – The Return of the Unicorn Pins!!! 
11th – Spring Animal Magnets! 
15th – BET YER BOTTOM BINGO 7:30pm in the front Bar, win BIG BOTTLES O' BOOZE and other fabulous prizes with boys, girls, balls and a whole lotta laffs!!! 50 Cents a Card! 
18th – Terra Cotta Clay Playtime! 
25th – Puffball Creatures!