~~~~RED CROSS DISASTER PREPAREDNESS CLASS 8pm (before CraftNight) Click here for More INFO and RSVP!
This Wednesday, September 13th at Akbar from 9pm to midnight or later it's CRAFTNIGHT!!!
****Project: Alluring Apple Bracelets! 
*****$3 Donation Please 
******$4 Drink specials! Akbar: Be Part of Something Fabulous,  your local Gay Bar! 
It's HERE it's HERE! Selena Vazquez from the Red Cross is coming to do a one hour presentation on disaster preparedness at 8pm before CraftNight! It's FREE to the public, and afterward, it's CraftNight! There will be handouts, and information about stuff like earthquakes, flooding, and more! Please RSVP if you'll be there! Click Here! 
Now then: We're making apple bracelets, because it's apple season. It's almost Autumn, no it is NOT Autumn yet. But we're right there on the edge, just teetering, just tottering on the edge of summer's end, with the arrival of the Fall equinox palpably close to it's pumpkin-flavored start date! We can hardly wait, but as we wait… we're making apple bracelets with cool metal apple charms and fun translucent plastic beads. Featuring red, green and gold apples, this is quite the pre-fall fashion accessory!
This project is quite dainty and pretty. No one's going to think you're doing football tryouts if you wear this little ditty on your wrist. You might even have to over explain yourself, or wave your arms wildly to make a point, because apple bracelets aren't particularly known for being part of one's "power play" wardrobe. I think this is a terrible mistake, because apples are badass, hearty fruits, and make a fine totem for one navigating the rat race's many pitfalls. Apples are an American icon, they go in pies, they fit in a lunch sack perfectly, they make great cider, and more! 
The average apple tree lives 100 years! And apples are really good for your brain's mental alertness because they're packed with boron, which aides in mental clarity and bone health. All in all, apples promote longevity and strength, so if someone doesn't vibe with your apple bracelet, don't let 'em phase you, they don't understand the power of the illustrious, robust pomme de terre.
See you at the Craft Table,
JP Craft Captain
---
UPCOMING CRAFTS, ETC.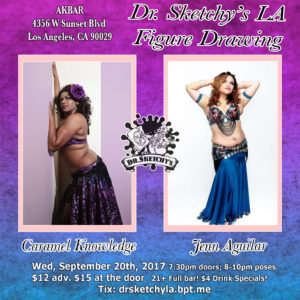 September 20th • 8-10pm • Dr. Sketchy's LA is BACK with "Turkish Delights" *** Live Model Figure Drawing & Cocktails*** Featuring:
Caramel Knowledge and Jenn Aguilar ***** TICKETS: http://drsketchyla.bpt.me/ **** $12 advance, $15 at the door ••• Facebook Public Invite: https://www.facebook.com/events/104409423631161
ALSO SEPT 20th CRAFT 9pm – First Day of Fall! We're making Autumn Suncatchers!!! 
SEPT 24th SUNDAY!!! – Bet Yer Bottom BINGO on a SUNDAY?!? Yes! Special Limited Edition Weekend Event! 
SEPT 27th CRAFT – Fall Leaf Necklace! 
OCTOBER 2017 – Halloween Crafts BEGIN!!!