This Wednesday, April 11th, 2018 at Akbar it's CRAFTNIGHT! 


Project:  Spring Animal Magnets!  




*******$4 PABST/TECATES • $5 Cocktail Special, see what we mean!   

    


*********$3 suggested donation, please! #NonProfitLife 

 

Honestly there's so much happening in April, just scroll down past all this folderol I'm typing and go see for yourself! Meanwhile in the CraftNight rumpus room at Akbar this week, there are the crafts to be had, and you really must have them. One need not travel to the outskirts of the city to witness cute springtime animals romping about, because we have them right here. We've got bunnies, and chickies, and lambies, and other supercute creatures for you to build. Display them on your shelves, your dashboards, your bathroom countertops, anyplace you desire. Wherever there is a flat-enough spot, you can put one of these little friends, or you can stick-em on the fridge.
In other news, I'm happy to report that the bees that were swarming and clumping on the side of our abode are gone. They swarmed, protected their queen, and after 48 hours, moved on elsewhere to a place they thought she'd like better. I couldn't really think when that was happening, I love bees, but when they do that… they freak me out. But now that I've read some info about it, I feel flattered that they chose us for a little while. Apparently, the Spring season is bee swarming time!
Also: I directed Pat and Charlie in their latest escapade, their Solid Gold Lamé Cabaret! If things have been feeling too serious, or you want to snort your margarita out your nose from laughing too hard, maybe come see this show. We promise it's the sassy sparkly diversion you've been craving.
See you at the Craft Table,
JP Craft Captain
---
APRIL HAS ALL THE THINGS! COME AND SEE!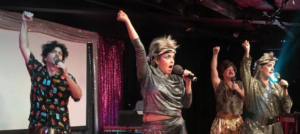 It's the FINAL run of Pat & Charlie: Solid Gold Lamé Cabaret! Last chance!!! Casita del Campo April 13th and 14th • April 20th and 21st @ 9pm get your tickets HERE!   Pat & Charlie revive their 1970s variety show but this time in the style of 1980s TV Tour de Force, Solid Gold. New Wave music meets glitter as they and their dancers, "The Precious Metals," pay homage to leg warmers, bikini suspenders and metallic headbands. Check it out on Facebook for more information! 

Sunday April 15th – BET YER BOTTOM BINGO @Akbar • 7:30pm in the front Bar, win BIG BOTTLES O' BOOZE (Havana Club Puerto Rican Rum, Sipsmith London Dry Gin and other fine spirits) along with other fabulous prizes with boys, girls, balls and a whole lotta laffs!!! 50 Cents a Card! Find out MORE on our FB Page!
18th 9pm Akbar – Terra Cotta Clay Playtime! – Make lil' sculptures out of reddish brown squishy air-dry clay!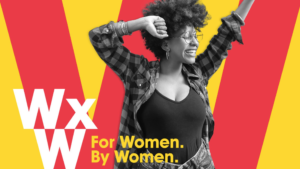 APRIL 22nd – CraftNight will be on Duty at WxW: For Women. By Women. A community celebration for LBTQ women and their allies. Visibility and community matter now more than ever. Join us for a day of fun, interactive, LBTQ-centric activities, performances, and much more! Bring yourself + friends + family – everyone is truly welcome. Event Details HERE!
25th 9pm Akbar – Puffball Creatures! A variety of poofy fluffy googly-eyed creative prospects await you!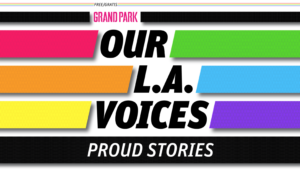 APRIL 28th at GRAND PARK from 2pm to 3:30 your Craft Captain, JP, is in the Line-Up of presentations for OUR LA VOICES!   It's a KID-friendly all ages jamboree!!! Miss Barbie Q – Host, D'Lo, Pip Lilly, Kacy Bushemi, Ofelia de Corazon, Steven Reigns, Alexandra Grey, Paul Outlaw, Odious Ari, Asher Yap, Robert Patrick, Julianna (JP)Parr, Billie White Acre