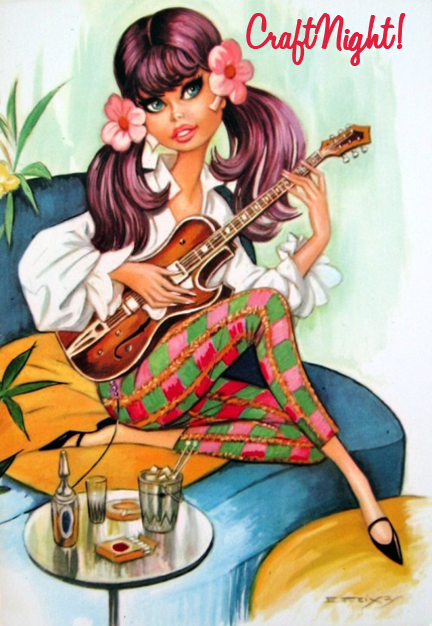 TONIGHT!!! April 8th, 2015 from 9pm until midnight (or later) at Akbar, it's CRAFTNIGHT!!!
Project: Jointed Knight!  
$3 Processing fee, please
$4 Drink Specials, cocktails for your countenance!   
Game of Thrones is coming up, the latest season. Knowing such a thing, I jumped at ordering us some brave cardboard-foily knights with jointed limbs! You can assemble them according to recommendation, or do what is not recommended and still get something fabulous! You can develop your own armor for your clan and make banners for it, march around the house while drinking flagons of ale, watching HBO!
Weirdly, upon arrival, I noticed that each kit comes with decor for your knight, and ALL of the kits come with red crosses.
Now… it is historically accurate if you consider the crusades and all of that business going on back in the day, but it doesn't really fit with the Game of Thrones "fantasy medieval" aesthetic. No matter, we think you can include and edit your project however you like.
You can shorten  your cross so that it's more of a "International Red Cross" foreign aid knight, or leave it off, or use it, it's really up to you, but just so you know, CraftNight is not religious in any shape or form. CraftNight is CraftNight, so you know, make your own kind of music, sing your own special song.
EXTRA CRAFT: Tissue paper flowers for the upcoming WEDDING RECEPTION! From this point until the April 22nd, every CraftNight will be making tissue paper flowers for the festivities (in addition to that week's craft of course)! You're invited to help us out! Come and volunteer your hand at an old art!
UPCOMING
April 26th >>> Your Craft Captain is getting married, come to the reception at AKBAR!!! Bring your friends and celebrate Lesbian LOVE! There will be karaoke from 8 to 10, dancing, drink specials, lesbian antics, entertainment and legally wedded bliss. 8:30pm until 1:45am Woooo!!!!
APRIL 27th, 8pm, AKBAR >>> Bet Yer Bottom Bingo!!! Big Bottles of Booze and other prizes, it's your night of 50 cent bingo cards and a chance to win EXCITING ITEMS!!!
See you at the Craft Table,
JP Craft Captain
www.crafthead.com
www.akbarsilverlake.com