CRAFTNIGHT! >> WED • Sept 19th, 2018 • 

Akbar • 9pm to midnight (or later!)

 


Craft Project: Sassy Apple Craft!


*******$4 PABST/TECATES • $5 Cocktail Special: Thousands of options! 
*********$3 suggested donation, please!
I have sassy photo apple frames, and they're VERY apple-oriented, because it's Johnny Appleseed Day on September 26th! There'll be stuff to glue onto your frames, and opportunity to take a photo to put IN the frame.I've got glitter glue, googly eyes, more pieces of foam so you can make your own shapes, and even some LEAF shapes, woo! You can fill your apple frame with a drawing, leave it blank, or have your photo taken and printed by CraftNight!
It's the time of year where apples do their thing, they're part of the rose family, just like apples and plums, and there are over 7,500 different varieties of apples. Apples are packed with fiber, the average apple contains 4.5 grams, so put down those two servings of Metamucil, because apples are way more fun to eat.
We're SO CLOSE to the Autumnal Equinox and no it's not your imagination the sky in Los Angeles is getting more blue. The sun is crossing the celestial equator going south, the light changes, and there ARE leaves that change color, don't be weird we DO have seasons, you just have to go to it: Descanso Gardens, Ice House Canyon (below Mt. Baldy), LA County Arboretum, Huntington Library Botanical Gardens, Ortega Highway, Mt. Wilson Observatory, to name a few.
See you at the Craft Table,
JP Craft Captain
---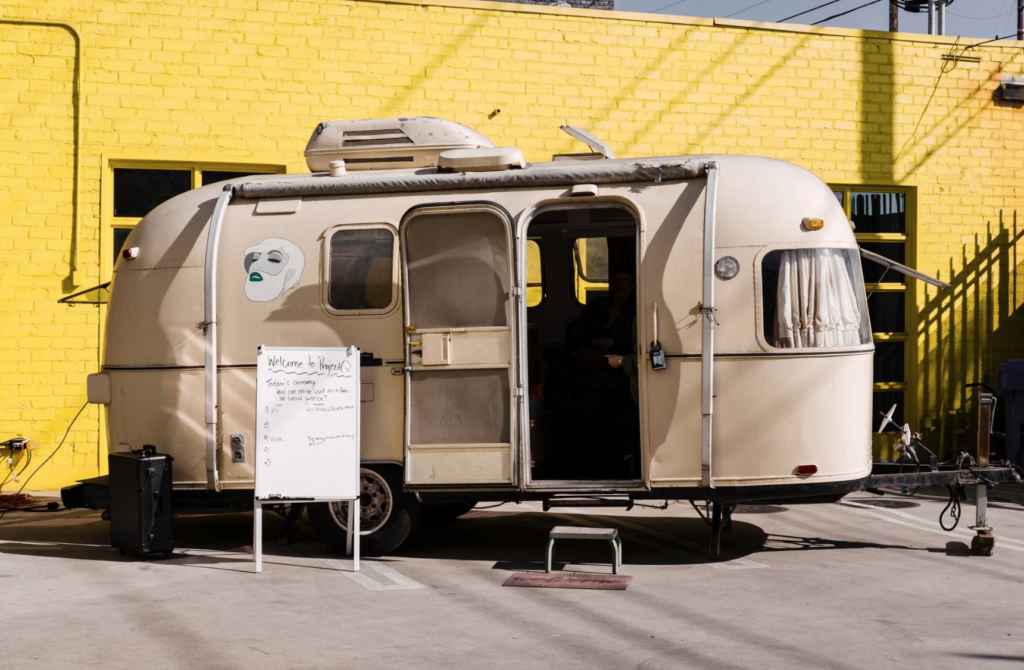 For the entire month of October, Project Q will be on the road with their trusty 'Hairstream' giving free haircuts to LGBTQIA+ homeless youth across America. Help them get to these smaller cities, find out more and please >>>> Donate Now!
---
UPCOMING CRAFTS: Sept 26th: Halloween Bracelet Craft, Ping-Pong Luminarias Oct 3rd, Halloween Bottle Cap Necklace Oct. 10th… October>>>> HALLOWEEN CRAFTS ALL MONTH PLUS SPECIAL EVENTS and SURPRISES!!!!
---

OPENING THIS WEEK! SEPT 20 – 22nd@ Casita del Campo!: Time for the most sparkly, gay, naughty sexy epic journey with giant WIGS and all music from 1989! See it again or for the first time! Directed by yours truly, this tour de force of sequins, crying while walking, queer-undertones and shoulder pads is a gift you should give to you and yours this fall season. This is our LAST RUN, come get a chimichanga and a show! >>> MORE INFO and TIX HERE

THIS UPCOMING SUNDAY!!! Sept 23rd at Akbar 7:30pm >>> Bet Yer Bottom Bingo brings you MuuMuus and Caftans Tiki-Time Fall Fantasy! We're giving summer the ultimate farewell by wearing MuuMuus or Caftans and bringing in that Fall Feeling with fun prizes, booze awards and MORE! FB Event Here!
CrafNight! 9pm • Wednesdays • Akbar >>> 4356 W. Sunset Blvd. Los Angeles, CA 90029 >>>>>> www.craftnightlosangeles.com