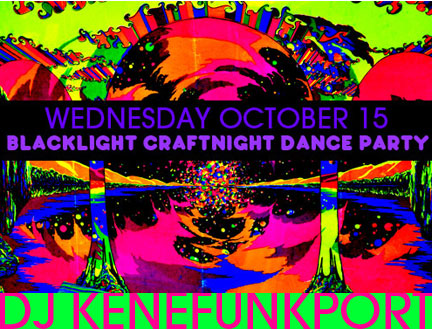 THIS WEDNESDAY OCTOBER 15th, 2014 from 9pm 'til CLOSING it'sBLACKLIGHT CRAFTNIGHT!!!!! 
$2 Processing Fee, also I'll have a donation jar out if you're feeling like you want us to keep doing stuff like this.
$4 Drink Specials: The LYLA, don't just see Autumn, feel it. 
DJ KENEFUNKPORT and EXTREME ANTICS!!! 
•     Total Eye-Frying melt-your-face-off Black Light ambience? CHECK
•     Monolithic Electronic DJ Beats to Vibrate your Solar Plexus? CHECK
•     Scantilly Clad humans wearing bright ideas? CHECK
•     Special Limited Edition Craft Supply GLOWY Kit? CHECK 
•     Value-Oriented cocktails to enhance your experience? CHECK
It got too quiet on Wednesdays, so we decided to do something about it.
SEE YOU THERE!!!
JP Craft Captainnnnnnnn
www.crafthead.com
www.akbarsilverlake.com
Next Week: Crafts, but not ones for Black Light…
Coming Up:
Dia de Los Bingo for the last Tuesday in October (28th)
Pumpkin Carving and Karaoke on the 29th!!!
www.gothtober.com