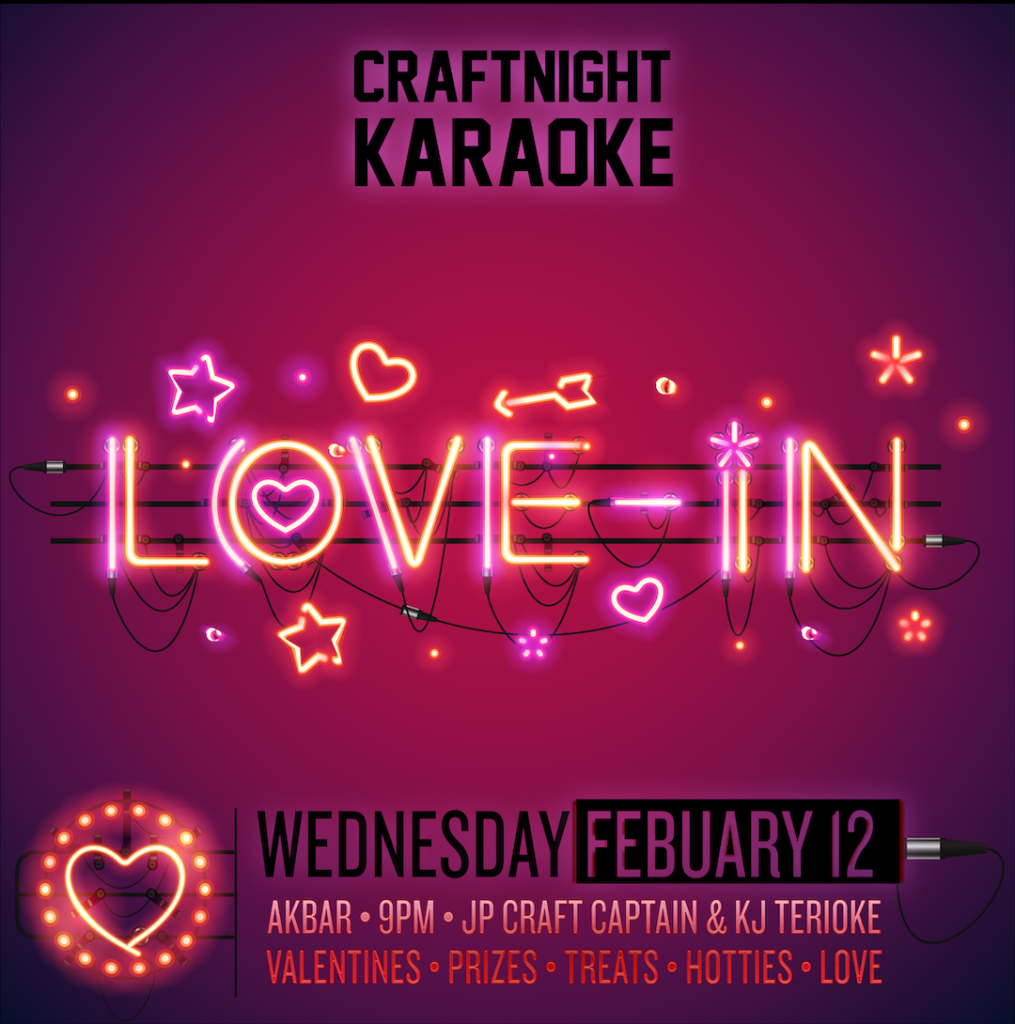 Love is an art, just as living is an art; if we want to learn how to love we must proceed in the same way we have to proceed if we want to learn any other art, say music, painting, carpentry, or the art of medicine or engineering. 
~Erik Fromm
February 12th, 2020 at Akbar, 9pm it's the CraftNight LOVE-IN!!!
JP Craft Captain and KJ Teri present:
The CRAFTNIGHT KARAOKE LOVE-IN!!!
FEB 12, 2020 • 9pm
AKBAR
21+
TONIGHT we celebrate LOVE. I do not mind if you're sardonic or earnest. It matters not to me whether you are heartbroken, or heartsick. It's fine if you have heartburn, or if you're heartfelt, or hearthappy, or whatever.
Your heart is your business, and we're here to LOVE IT.
Come in and sing, come in and craft. Make a valentine for someone you've never met. Croon some Hall and Oates while eating a delicious complimentary chocolate.
What do we have for you? SO MUCH LOVE!!!
Join us for a fun-filled evening of singing, drinking and crafting home made love tokens!!! You know us, we ONLY do deluxe, so get over hear and treat yourself to a very good time indeed!
• Valentine making PARTY!
• Card supplies and specialty valentine scraps from the secret CraftNight ephemera vaults!
• Romance Activism!
• Extensive and expansive catalogue of thousands of karaoke songs!
• All of the SINGING!!!
• Valentine Raffle Prize BONANZA!
• Delectable TREATS!
• FREE Commemorative PIN (while supplies last!)
See you at the Craft Table, Craft Captain JP