TONIGHT! Wednesday, December 14th, 2016 from 9pm until midnight (or later) it's CRAFTNIGHT!!!
Project: Paint a Seasonal Figurine! 
$3 Donation Please 
$4 Drink specials! Akbar: Laughin' it, Livin' it, Lovin' It!  
*** LAST WEEKEND OF SHOWS: Our SparkleBlob Holiday show is HERE! "The SnowGlobe of Progress: An Urban Puppet's Contemplation" made TimeOut and KCRW's lists!!! We've got home made hot buttered rums, baked goods, snow globes and oh yeah, a SHOW!!!  
Come on over and paint a little snowperson, or a Santa, or a reindeer! Every week, CraftNight strives to deepen community ties and create a lil' arty enclave for you to express yourself through making fun and easy projects. Cozy on over and sip a cocktail, let us discuss glitter and googly eyes, puffballs and pipe cleaners.
You may have no idea how you strengthen CraftNight by dropping in, but believe me, you are part of the web of relationships that connects us! Our bar on the corner has been here almost two decades, on New Year's Eve, it's our 20th Anniversary! As we bring 2016 to an end and begin preparations for the next trip around the globe together, it's all about connection. Besides having opposable thumbs, being there for one another in our especially annoyingly human way is one of the top reasons why being human is cool.
We have a biggie-stinky-hurkin' wheelbarrow of manure to shovel in 2017, and it's not a one person job. There's no time for lone wolves. Time to ask for help, time to be strong enough to ask for help, and we have to take care of each other, be visible and active, practice reciprocity and learn lessons from each other.
Interdependence is the new Independence. And cookies. Really a lot of cookies.
See you at the Craft Table,
JP Craft Captain
---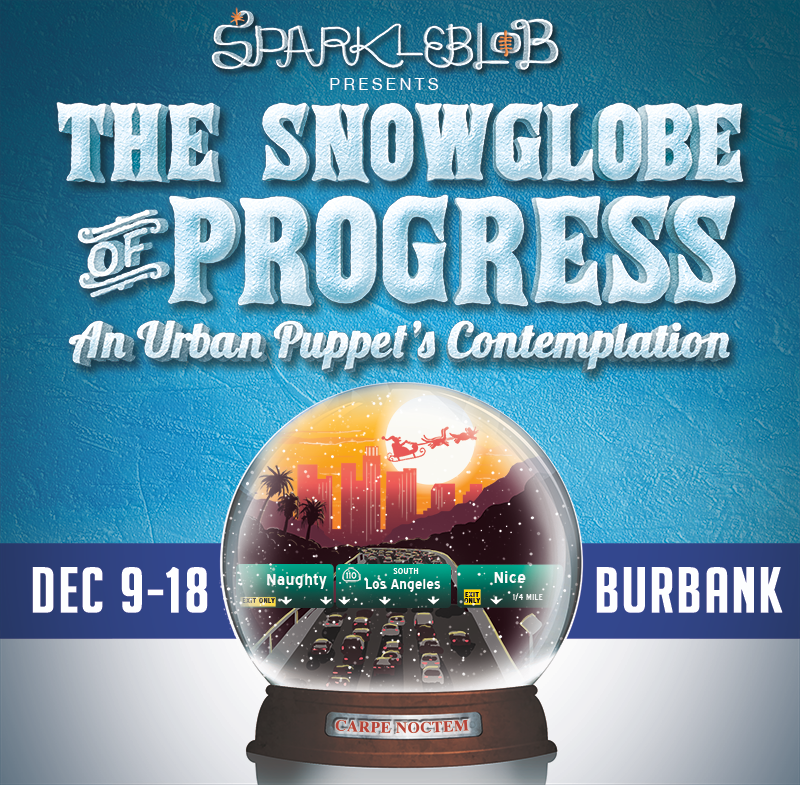 SparkleBlob Presents




THE SNOWGLOBE OF PROGRESS


An Urban Puppet's Contemplation
DECEMBER 9th – 18th in BURBANK!!!  

PUPPETS • ALL AGES SHOW • LGBTQ FRIENDLY • FAMILY FRIENDLY • LIBERAL NOTIONS • SNACKS • BEVERAGES • POPCORN • SINGING • LIVE BAND! 
Direct from Burbank, California, celebrate the tradition of amorphous blobs, robots, and kombucha nog this festive holiday season! Your favorite annual puppet show is back with a story of our sparkling sprawling winter wonder southland in it's snowiest, flakiest splendor yet! Cozy up to the candy-coated chaos you've come to love and expect from Silverlake's Most Well-Adjusted Family, Tree, and Santa Gorn!
*** Special Show Warning – Look out for flying gelt!
More info about the show HERE
Get Tickets from Brown Paper Tickets right this second HERE 
Wanna volunteer and be an usher or concessions helper? (Volunteers can see the show for free!) Contact: sparkleblobbateers@gmail.com