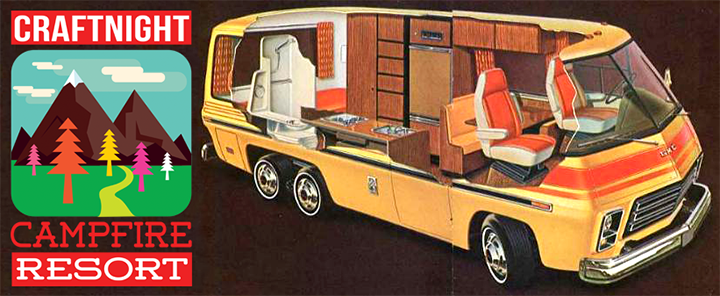 This Wednesday, July 15th, 2015 from 9pm until midnight (or later) at Akbar, it's CRAFTNIGHT!!!
Project: SPA NIGHT! Nail Art! 
$3 Processing fee, please
$4 Drink Specials: Between love and madness lies obsession. 
CRAFTNIGHT CAMPFIRE RESORT MARCHES EVER FORWARD!  
SPA NIGHT #1 = Nails and nail art! You will get your very own nail kit with fun stuff to decorate your own nails, or a friend's nails! We became a resort for summer, so we're doing it up mid-July! We're going to relax in a really creative way, do our nails, watch Meatballs starring Bill Murray and take part in enriching workshops to nourish our souls.
Visiting Camp Counselor from Camp Teenie Mini Weenie, Alex Kenefick, will be leading Camp Trust Learning and Meaningful Development: the Leadership of Positivity and Sensitivity! Participants will receive a special badge from CraftNight Campfire Resort, don't miss this exciting opportunity to get yours!
Here is the official summary of what you might expect at this introspective and inspiring conference on the dance floor.
Description:

We will be having some MAJOR BREAKTHROUGHS with our personal 

development

 in this edition of Craftnight's Campfire Resort.  Get ready to do some drawing, gluing, and sprucing of your hearts, minds, and your personalities.  Prepare to learn important leadership skills and maybe even star in a skit!  You are guaranteed to become a more well-adjusted and positive bar patron after these exercises.  You will need to complete at least three activities to earn the badge for this evening.
I expect this evening to be very meaningful, very positive, very trustworthy, so make sure you visit, it's going to be lots of fun! Sit around the campfire and reflect.
See you at the Craft Table,
JP Craft Captain
www.crafthead.com
www.akbarsilverlake.com
SUMMER  FUN
ALL OF JULY
Mohawk Bend in Echo Park is supporting Planned Parenthood Los Angeles by donating $4 of every purchase of their special July pizza to the cause!!! It's a PEACH PIZZA!!!!! YOU HAVE ONE MONTH NOT TO MISS IT!!
Piece of the Pie Pizza: Pro-Choice, Pro-Peach
Fresh Peaches, Mozzarella, Italian Salsa, Marinated Vine Ripened Tomatoes (Vegan Available)
CRAFTNIGHT RESORT'S UPCOMING CRAFTS:
****** July 22nd – Glass Votive Candle Decoupage
******July 29th – Visiting Craft Lieutenant, Vero LeBron and Camp Counselor, Angie Cho present: Heart to Heart:  Eco-Friendly Stationery Craft using Heart Stencils
JULY 28th Akbar's BET YER BOTTOM BINGO!!! Girls, Boys, Balls, Booze! Keep your eyes on the prize, it's 50 cents a game! Come try your luck, big daddy!