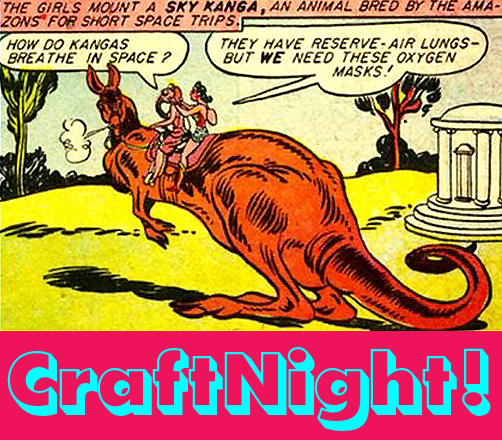 TONIGHT! Wednesday, May 14th, 2014 from 9pm until midnight (or later) at Akbar, it's CRAFTNIGHT!!!
Project: Charming Bird Theme Necklace Kit 
$2 Processing fee, please
$4 Drink Special: "The Lyla" • Your Ticket to Urban Paradise!
Expert Craft Ops Specialist and CraftNight Lieutenant, Elaine Walker at the helm tonight!
SPECIAL APPEARANCE by the Ukulele Orchestra of the Western Hemisphere! Serenading you sometime after 9:45 or so…
You know you want to make crafts to the sounds of beautiful strings strumming lovely hits of today and yesteryear, right? And you know you want to stroll the sidewalks of your city wearing a "Charming Bird Necklace" that will charm people so outrightly, so unabashedly, that they'll just be filled with an elation they can't describe?
The Charming Bird Necklace cuts through the crap and says things we're all trying to say: The World is Beautiful, Birds are Rad, Air is for Breathing, People are Nice, It's HOT in Los Angeles… The Charming Bird Necklace makes it so that you don't have to say these truths, you can just WEAR them and it does the work for you. It's highly pragmatic to have an accessory that does the work for you, no?
Wear this Bird Necklace to outings and events and just see how many doors it will open for you. Your Charming Bird Necklace will help you concentrate on your 18-month plans AND your long term dreams. The Charming Bird Necklace is your personal power amulet, enhancing your talents and ambitions! What's more, the oppressive LA heat will hopefully subside and it will be lovely to have a cooling cocktail, a craft project, friends old and new, and yes: LIVE UKULELES!!!
Be near us, Elaine will probably be wearing a dress that you need to see.
See you at the Craft Table,
JP Craft Captain
PS – Do NOT forget your oxygen mask when you take off on your Sky Kanga (see photo)
www.akbarsilverlake.com
www.crafthead.com