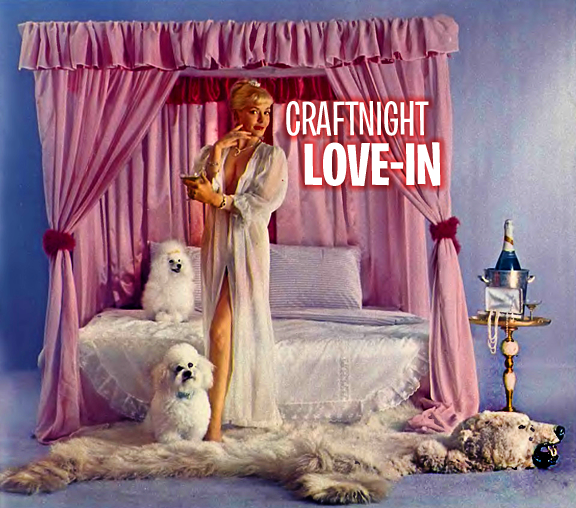 This Wednesday, February 11th, 2015 from 9pm until midnight (or later) at Akbar, it's The CRAFTNIGHT LOVE-IN!!!
Project: Valentine-O-Rama!!! 
$3 Processing fee, please
$4 Drink specials, for the love o' cocktails! 
If you like Valentine's Day, see you this Wednesday.
And if you hate Valentine's Day, see you this Wednesday.
I'm serious.
You can blame retail, or the system, or cupid, or your ex, but blaming external factors is just another way to naval gaze one's mind into wasting precious time and resources. If you're going to be bitter, at least have the sense to be bitter in good company, with fabulous people, and a beverage in your hand.
In the words of Mama Cass "Make your own kind of music. Sing your own special song. Make your own kind of music, even if nobody else sings along."
The world needs more love all the time and while romantic love is just fine, we also need stuff like friends giving each other cookies, dogs getting extra walks, Grandpas receiving flowers, we need stuff like compliments, hugs, encouragement and support.
Could you use stuff like that? Well we have some just for YOU!
Prepared for you this Wednesday:
• LOVE RAFFLE (Mad mad prize baskets)!
• "The Apple" film on the AKBAR JUMBOTRON!
• GUARANTEED Valentine from Craft Captain!
• SNACKS (sweet AND savory!)!
• Limited Edition magnet BADGE(while supplies last!)
• Delicious Cocktails!
• Fancy Music!
• Cute Friends!
• Hot Strangers!
Make horrible OR wonderful Valentines from the CraftNight vault's special scrap collection! Paper, markers, glue and glitter GALORE!
I'm working my butt off making special scrap packets for each and every crafter. The ephemera I've gathered covers an inventive plethora of emotive card-making choices for today's lovers, meta-modernists, pervs, and sardonic skeptics.
Your neighborhood needs love, your city needs love, your local gay bar needs LOVE!
If your heart is healing and you want to wallow, we shall wallow with you.
If you're all about making something wonderful for a special someone, we can help with that.
If you just want to win awesome prizes and watch "The Apple" while having snacks, it's ON. And on that note, if you've never seen "The Apple" I'm aghast. Everyone must see it. EVERYONE.
Here's the FB invite, RSVP and tell me you'll be there.
See you at the Craft Table,
JP Craft Captain
www.crafthead.com
www.akbarsilverlake.com