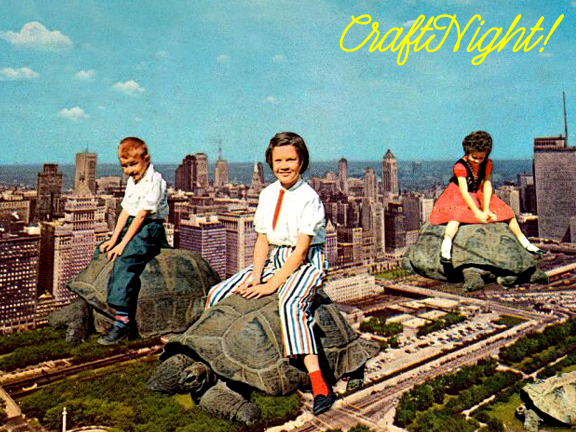 This Wednesday, June 3rd, 2015 from 9pm until midnight (or later) at Akbar, it's CRAFTNIGHT!!!
Project: Celestial Sand Art   
$3 Processing fee, please
$4 Drink Specials, because a closed mouth gathers no cocktails… 
[Extra Info about class with JP and CraftNight's upcoming capers at the bottom of this transmission]
Like sand through the hourglass, these are the days of our crafts. I love sand art, I love love love it, and we have some remarkable mandala-type thingies for you to make this week in the shape of the sun or the moon. These self-adhesive boards merely require you to peel back paper to expose the sticky side where you then sprinkle colored sand. It's like a very grainy paint-by-number. They're round, which means they look especially new age.
Round art is inherently subversive because it just doesn't fit into the uniformly accepted and practical square frame. We often make 3-D art, or dimensional strangely-shaped crafts at CraftNight, but not a lot of our crafts are unabashedly round. While these mandalas are offering an observably mellow and meditative theme centered around the cosmos, it cannot be denied that round art is sometimes just a glorious pain in the ass. Round art insists. Round art will not politely exist with all the other stuffy wonders on the wall in a neat and respectable tableau. That's why you should come in and try your hand at sprinkling colored sand, it's trouble-making at it's most benign.
Speaking of trouble-making, i's officially Gay Pride Month, which means it'll be pretty festive around here. We'll begin June with the sun and the moon sand art pieces, and next week we'll have rainbow necklaces for everyone to assemble. Get ready!!!
See you at the Craft Table,
JP Craft Captain
www.crafthead.com
www.akbarsilverlake.com
SIZZLING SUMMER SYMPOSIUMS
JUNE 11th: ARTIST BLOCK TALK WITH JP (that's me) at Echo Park Film Center! I'm an artist and I know things and I have advice about artist blocks, and making stuff! Come get knowledge and treats! More info FB Event
COMING UP IN SUMMER>>>> CraftNight Campfire Resort at Akbar!!! All of the camping, none of the nature! Huzzah! As soon as the summer solstice hits, it's campin' time! Get ready…
ONE MORE LEEEETLE THING…
Lesbians in scrubs! Jesus-worshipping meth heads! Racial segregation! Live singing and dancing! Wait, what? That's right, take everything you love about Orange Is the New Black and put it to music, and you've got Orange Is the New Musical: The UnauthorizedParody! Extended for one night only—Saturday, June 13, in Downtown Los Angeles—this bawdy, hilarious tribute features a cast of 30 incredible performers, a live band, more than 15 original songs that you'll be humming for days.