TONIGHT! August 24th, 2016 from 9pm until midnight (or later) at Akbar, it's CRAFTNIGHT. 
Project: Scratchy Fancy 
$3 Processing fee, please
$4 Drink Specials at Akbar: Sip the Good Times 
Carve your own path with scratchboards this week!
The world is NOT unchanging, fixed, rigid and unvarying, and neither are you. We're doing scratch-n-reveal boards this week so that we can address "surface problems" and get to what's really important.
These scratchboards come with a scratching tool, and a motif for you to follow along with, but disregarding the instructions is also lots of fun. One merely scrapes away the top layer of the board to reveal fun colors underneath! It's a super easy craft, practically no assemblage required.
We shall literally scrape/scratch away the top layer doing this craft, but here what you can scratch/scrape away in a metaphorical sense:
Negative feelings you're having about that bag of flavored chips you ate
Barky political pundits having tantrums on channel whatever
Anyone trying to get you to talk to them while you are sitting on the toilet
Argument about mayo vs. miracle whip on social media
Fears about infinity, clowns, tornadoes, public speaking, or sharks in the bathtub
People are always saying to "stop scratching" or "quick picking at it" but as you can see, this is not one of those nights. Scratch your scratch board, scratch at this stuff, discard or examine what you find, excavate and explore! Because face value is useful, but sometimes… you just gotta delve.
See you at the Craft Table,
JP Craft Captain
---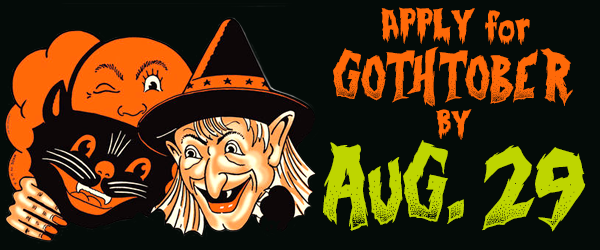 CraftNight is your friendly, weekly, arty opportunity to get to know yourselves and others through casual creative pursuit. But were you aware that CraftNight works under the umbrella of an arts non-profit called SparkleBlob? Underneath that umbrella are other happenings throughout the year, and our next endeavor approaches for the fall season, it's called Gothtober.
The Gothtober Countdown Calendar is a curated time-release flash-based online museum of 31 works of art by 31 different contributors. The official run of the show is from October 1st to the 31st, a new piece being revealed with each day of the month.The best way to see what it is though, is by visiting it!
Gothtober is looking for contributors, and applications are open until August 29th! We're looking for recipes, comics, tiny weird short films, music, slideshows, animations, crafts, performance, and whatever else you can think up! It's kind of like entering a film festival, but the content is multimedia.
Every age group and every level of experience is welcome to be a part of this annual collection of virtual treats, and we're always looking for new blood. Find out more below:
Visit the Official Gothtober Calendar
MORE THANGS 

NEXT WEEK I'm Hosting BET YER BOTTOM BINGO August 29th, 2016 • 8pm to 10pm • ELECTRIC MUUMUU BOOGALOO II 
BOOZE PRIZES: George Dickel and Virginia Black whiskeys, Patron XO Cafe Incendio, and a big ol' bottle of Ketel One Oranje!!! Delicioso!!! SIX Action-Packed GAMES of Girls, Boys, Balls, Booze! We'll be wearing fancy baggy muumuus to offset the high temperatures!
THIS SATURDAY! 
Ian MacKinnon's Gay Wet Dreams to Save the World 
As society seems to become more violent, as oceans rise and economic disparity reaches new heights, performance activist MacKinnon follows his cock to look for gay solutions. Take a psychedelic sexual journey to discover some of the deeper meanings behind gay desire.
More Info HERE!
THIS SUNDAY! 
Gal Palace's Rainbow Fish #12 
Ready for a relaxing Sunday evening hangout with low pressure and great vibes? Rainbowfish is back at Gal Palace!
ACTIVITIES : Games! Board games, Cards Against Humanity, Mario Kart! • Craft table: make collages, cards, & more • Beyoncé Lemonade stand outside! (there's so much more, go read about it)
More info Here 

COMING TO YOU  IN FALL: CRAFTNIGHT LAB SEPTEMBER 21st ***LIMITED ENGAGEMENT!***  
An early evening craft experience with hors d'oeuvres, cocktails, high-end supplies and step-by-step guidance by JP to make a finished project!