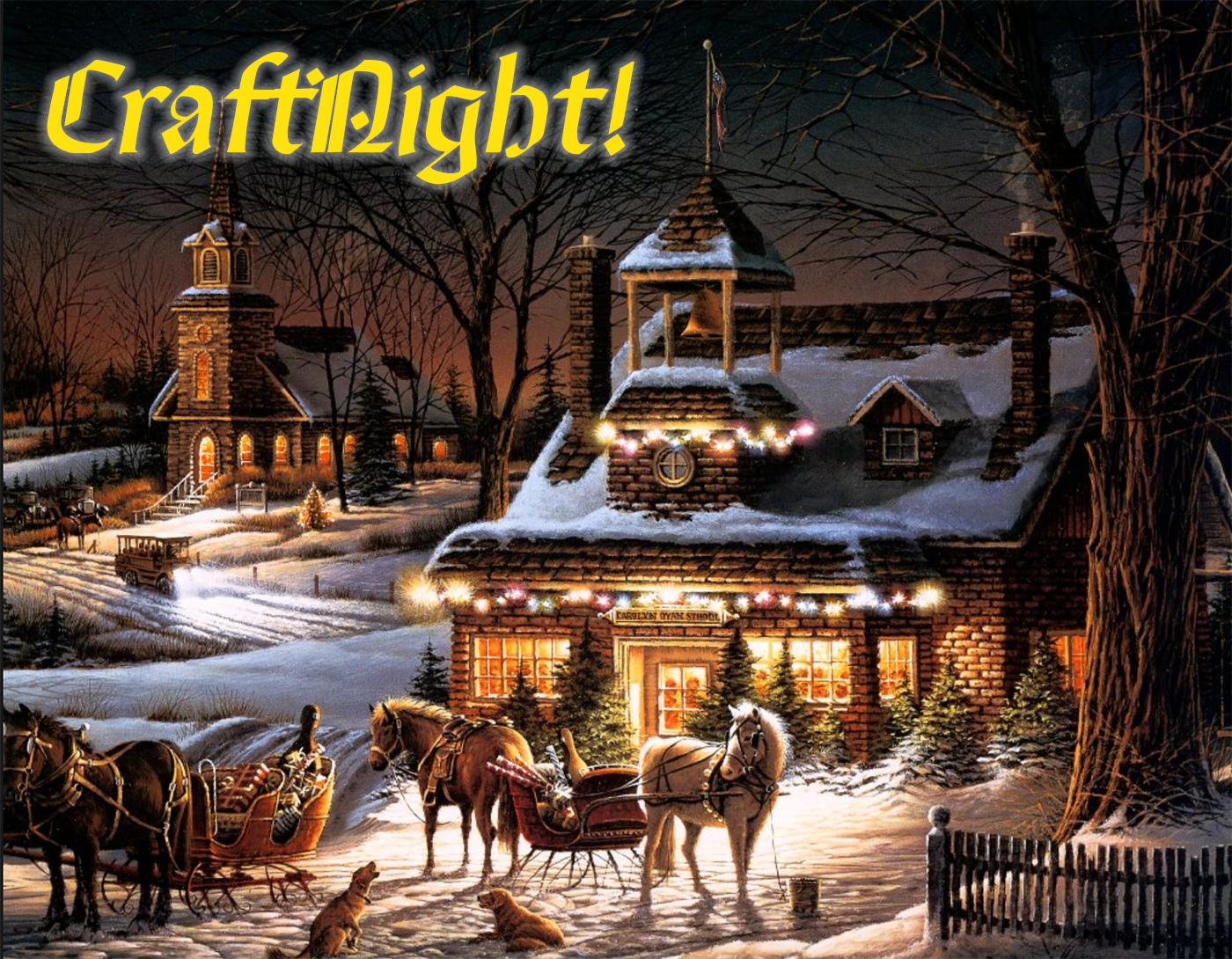 TONIGHT! Wednesday, November 30th, 2016 from 9pm until midnight (or later) it's CRAFTNIGHT!!!
Project: Holiday Choices from the CraftNight Vault! 
$3 Donation Please 
$4 Drink specials! Akbar: Pure Love in Every Glass! 
*** ANNOUNCEMENT: SparkleBlob Holiday show is HERE! "The SnowGlobe of Progress: An Urban Puppet's Contemplation" starts next week, we need audience, and we also need volunteers, read more at bottom to find out more! 
Hooray, 2016 is almost over, but not without some seriously festive crafts for you to make and take your mind off of the crazy. Last year, there was a shiny, fancy sale, and I scooped up as much holiday stuff as I could, and saved it in the vault until NOW. That means this month is going to be PACKED with fun projects to do that are, yes, holiday oriented. Tonight I've got Xmas and Hanukkah choices, as well as some secular stuff if you're just not into the holiday jamz. It's all sparkly though, and it's all very glamorous.
While everyone's scurrying around trying to shop for this, that and the other, take a moment for yourself, and create a keepsake for you or a loved one that will remind them of you. Nourish your body, your heart, your soul, your desire for a cozy cocktail in the company of gorgeous strangers who are fine with conversation or comfortable silence. The demands on one's time and energy get quite crunchy this time of year. Make taking a break be a part of your holiday traditions, concentrating on what's important to you.
Sharing the goodness of life need not involve discount coupons, oppressive party schedules, or recipes you don't like to make. No one lives outside the walls of existence, it is a hallowed spot in yourself and your mind that belongs to YOU. If you don't want to go to Uncle Crotchety's Republican Cookie Bake-Off this year, you don't have to, just send a nice card, and skip it. If they try to guilt you into going: send a gift basket in lieu of yourself, no one can argue with a good basket. Or… you know, send them an ornament that looks like private parts. That always goes over especially well.
Now then, you like puppets, hot buttered rum, lights, music, song, and Los Angeles, please come see my puppet show. I know I know, how many people beg you to see their puppet show? You lead a rich, full life!
See you at the Craft Table,
JP Craft Captain
---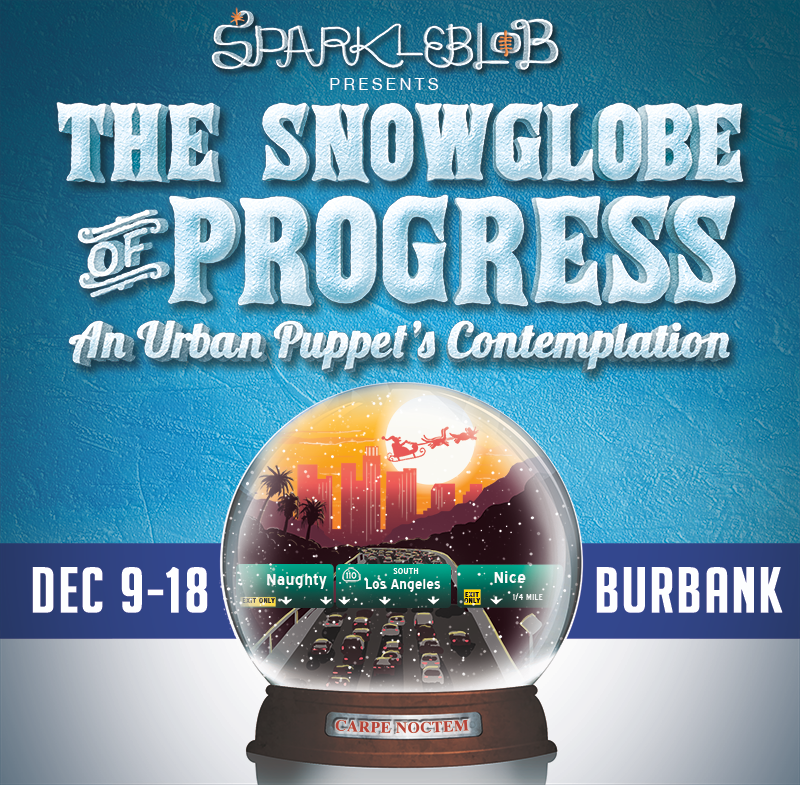 SparkleBlob Presents




THE SNOWGLOBE OF PROGRESS


An Urban Puppet's Contemplation
DECEMBER 9th – 18th in BURBANK!!!  

PUPPETS • ALL AGES SHOW • LGBTQ FRIENDLY • FAMILY FRIENDLY • LIBERAL NOTIONS • SNACKS • BEVERAGES • POPCORN • SINGING • LIVE BAND! 
Direct from Burbank, California, celebrate the tradition of amorphous blobs, robots, and kombucha nog this festive holiday season! Your favorite annual puppet show is back with a story of our sparkling sprawling winter wonder southland in it's snowiest, flakiest splendor yet! Cozy up to the candy-coated chaos you've come to love and expect from Silverlake's Most Well-Adjusted Family, Tree, and Santa Gorn!
*** Special Show Warning – Look out for flying gelt!
More info about the show HERE
Get Tickets from Brown Paper Tickets right this second HERE 
Wanna volunteer and be an usher or concessions helper? (Volunteers can see the show for free!) Contact: sparkleblobbateers@gmail.com