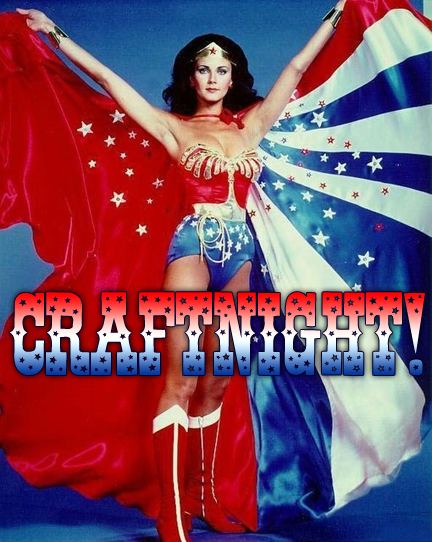 This Wednesday the 26th of June 2013 from 9pm until midnight or later at Akbar, it's CRAFTNIGHT!!!
Project: 'Merican-Themed Plant Holder
$2 Donation Por Favor
$4 Cosmopolitan Drink Special! The Akbar Cosmo: The Taste of Freedom.
NOTE: NO CRAFTS NEXT WEEK!!!! Instead, there will be a DANCE PARTY!!!! Ring in the long weekend! (See you the following week July 10th with a sweet watermelon craft!)  
I'm a big fan of patriotic novelties, and this one is truly strange, dare I say even too good to be true. Coming to you this week, a piéce de résistance never before attempted, it's The Craft Stick Flag Planter. 
Knowing what I do about the need for a CONSTANT reminder that you live in AMERICA, I do believe the problem is now solved, and here is the preamble reflecting my intense and eager enthusiasm:
We the CraftNight, in order to form a more perfect planter, establish craft sticks, insure self-adhesive foam pieces, provide space for a small plant, promote the general bar chair, and secure the joy and ease of crafting and creativity to ourselves and our dexterity, do ordain and establish this revolution for the United Crafts of America.
Display your national values and strong sense of purpose, becoming deeply rooted in the American way! Democrats, Republicans, Conservatives or Liberals,  all win with this plucky square receptacle that will absolutely preserve your independence and spirit, while maintaining US industry and enterprise.
After this week you will have a souvenir that not only shows an appreciation for Old Glory, but it ALSO doubles as a place to put a small plant, like a cute little succulent, a spider plant or a tiny fern. A groovy little plant hanging out in your home is a keen reminder of summer, which is now here.
See you at the Craft Table,
JP Craft Captain
PS – If you aren't all that into the jingoistic flavor of a patriotic plant holder, remember to do the ANOTHER truly American thing: exercise your freedom and renounce nationalism by BURNING the flag (or flag-themed plant holder) closest to your heart!
www.crafthead.com
www.akbarsilverlake.com