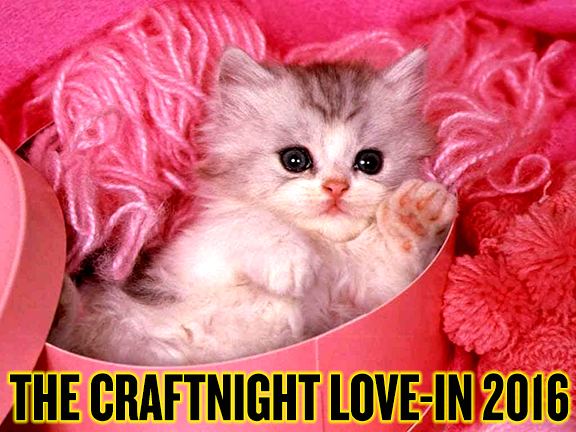 This Wednesday, Feb 10th, 2016 from 9pm until midnight (or later) at Akbar, it's CRAFTNIGHT!!!
Project: CRAFTNIGHT LOVE-IN VALENTINE-O-RAMA!!!! 
$3 Processing fee, please
$4 Drink Specials at Akbar: Life without passion is unforgivable. 
****PHANTOM OF THE PARADISE SHOWING ON THE AKBAR MEGATRON!!!****
• Valentine Scrap-Craft-O-Rama Craft Smorgasbord!
• RAFFLE (prize baskets o fun!)
• "Phantom of the Paradise" film on the Akbar Jumbotron!
• GUARANTEED Valentine from your Craft Captain!
• LIMITED EDITION magnet BADGE (while supplies last!)
• SNACKS! (Sweet and Savory) 
With all of the choices in the world, all of the people to meet, all of the emails to read and ignore, all of the things to do in the big city, the choice is usually to make no choice and take potshots at everything because daring to make something of your own will merely meet with scrutiny and everyone's callous, spoiled, stagnated, bloviating naval-gazing critiques. Well no more of that, it's time to kick fear in the teeth this week with LOVE!
I'm reaching out of this monitor, grabbing you by the MIND and asking you some some goddamn questions:
• WHAT ARE THE QUESTIONS DRIVING YOU IN THE MOMENT?
• ON THE SMALLEST POSSIBLE LEVEL, WHAT CAN YOU DO TO MAKE THE WORLD A BETTER PLACE?
• DO YOU BELIEVE IN ENERGETIC RECIPROCITY?
• HOW DO YOU LOVE?
We're building a world where you can ask these questions with glue, glitter, pens, paper, and valentines.
Visit us to receive your valentine bag, write your name on it, and put it on the ledge. Note the other bags on the ledge, and make valentines for those people you don't know. Take a risk, have something to talk about in the locker room, make a thing, be a choice, love your humans, we're all we've got.
Also, in case your heart is broken or you're just feeling misanthropic, ignore everyone and find a dark corner, come and drink your feelings while watching Phantom of the Paradise! This film is director, Brian de Palma's ONLY musical, and it stars the legendary Paul Williams in all of his flowy blonde-haired glory! Witness this cautionary tale of stolen and perverted artistry, lost love, and Faustian bargains!
See you at the Craft Table!
JP Craft Captain
COMING UP: 

   
ANNUAL CRAFTNIGHT LOVE-IN!!!!
Ohhhhh the LOVE-IN!!! • Featuring the RAFFLE SURPRISE BASKETS • "Phantom of the Paradise" on the Akbar Jumbotron • Snacks • Limited edition magnet badge • Guaranteed Valentine from your Craft Captain • Music • Romance • Bromance • Sisters • Sinners • Love and all of its complicated meanings and feelings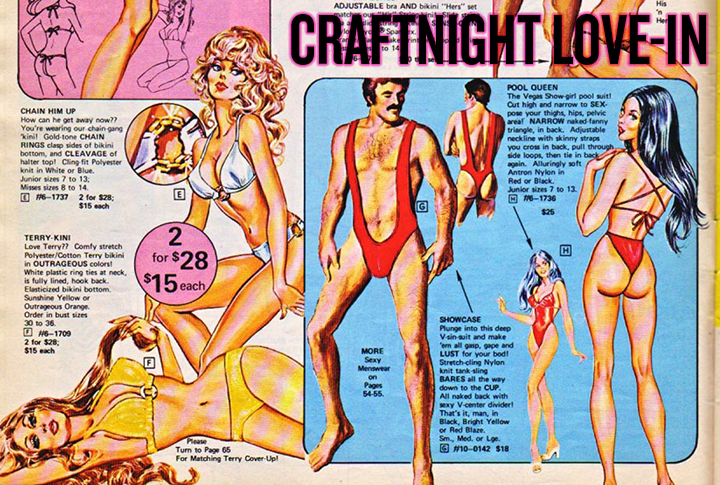 February 17th – Chinese New Year Neon Monkey Door Hangers
February 24th – Princess Ice Castles
March 4th – Adorable Finger Puppets

TUESDAY February 23rd BINGO: Tuesday 8pm to 10pm it's Bet Yer Bottom Bingo the night of fast and loose chances in your favorite bar with knock-out prizes and big bottles of booze! Boys, Girls, Balls, and that winning feeling!