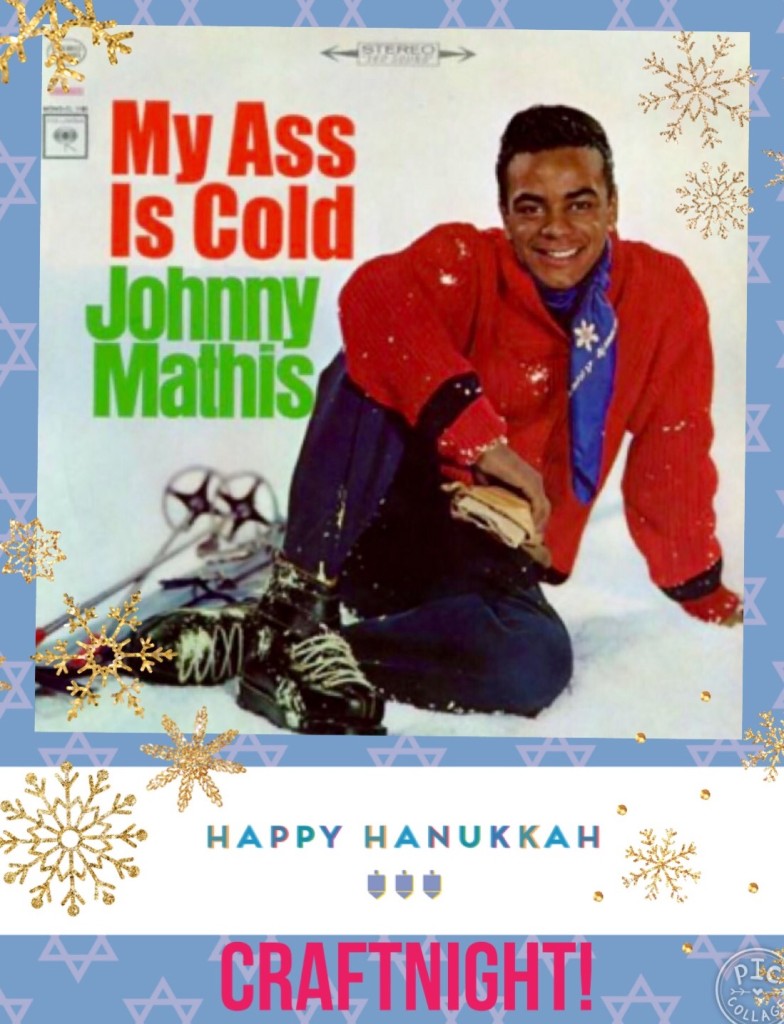 TONIGHT! Wednesday, Dec.9th, 2015 from 9pm until midnight (or later) at Akbar, it's CRAFTNIGHT!!!
Project: Hanukkah Crafting 
$3 Processing fee, please
$4 Drink Specials at Akbar: Getting better with every sip!  
Happy Hanukkah! Tonight we bring you some foam menorah crafts, pins and scratch dreidels! These are projects  involving various levels of dexterity, and all of them are as complicated or simple as you wish them to be, just come on in and try your hand at crafting your very own festival of lights.
I'm typing this from China Town, as your Craft Captain is in tech rehearsal for our exciting and riveting holiday puppet show, featuring home made entertainment that is family friendly, super weird and LOTS of fun! If you decide to order tickets, use the code word AKBAR and receive $5 off your ticket! We make a mean hot buttered rum, and the SparkleBlob kitchen has developed a new hot drink called the Fireside Cider that will make you feel extra toasty.
See you at the Craft Table!
JP Craft Captain
DECEMBER SO MANY THINGS!!! 
December 10th – 20th – SparkleBlob and Automata present "Holidays on Icing: A Christmas Cookie Crumble" GET TICKETS NOW THEY SELL SO FAST EEEEK!!! (Written and directed by your Craft Capt)
December 16th: Xmas Shrinky Dinks and Ye Olde CrafteNighte Crafte Faire • EARLY START TIME!!! 7pm to 12:30pm (or later) Local Vendors, Crafting, Drinking, Music, Laughter rings out, YEAH!
December 22nd: Tuesday 8pm to 10pm it's Bet Yer Bottom Bingo HOLIDAY EDITION!!!! Naughty and Nice Bingo? He sees you when you're sleeping… creepy. Big bottles of booze and some amazing prizes for you so don't miss it!