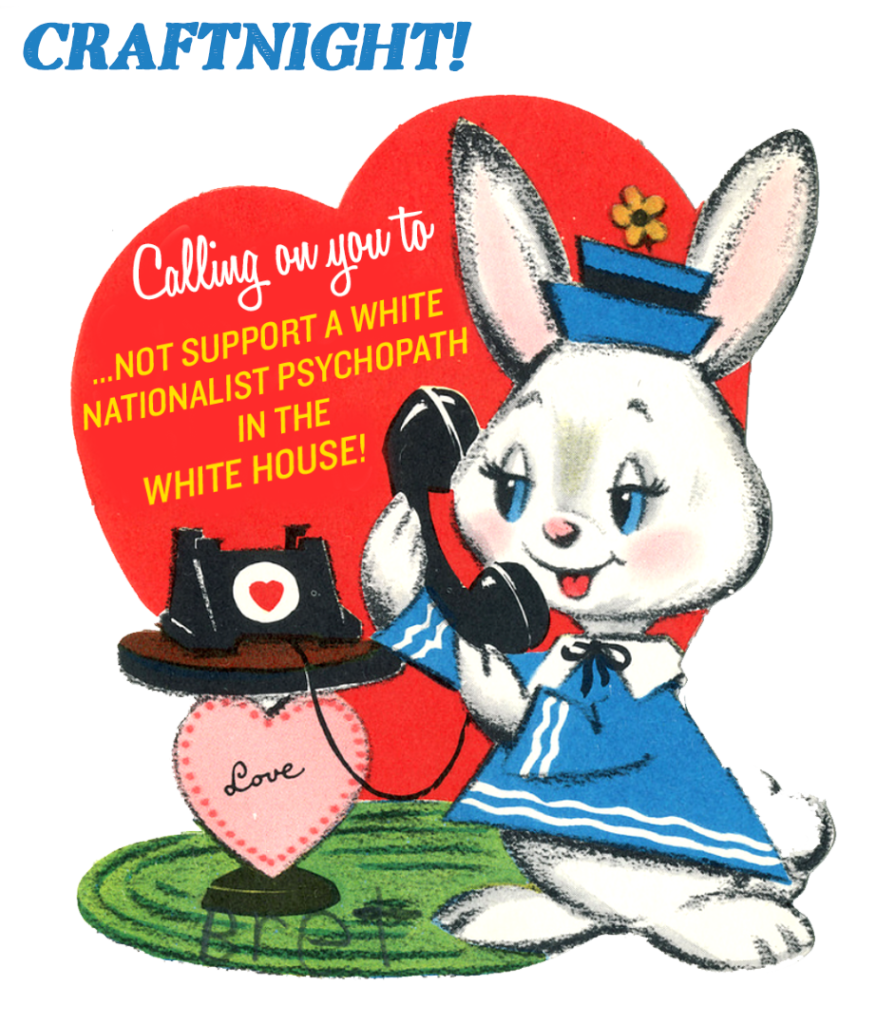 This Wednesday, February 8th, 2017 from 9pm until midnight (or later) it's CRAFTNIGHT!!!
Project: Valentines for Politicians! 


$3 Donation Please

 
$4 Drink specials! Akbar: The Spirit of Silverlake Style!  
Usually we have the "CraftNight Love-In" and believe me, there will be LOTS Of love, but it's a little different this year. Come in and make a valentine for someone you love… but also, if you want to, I've made a series of valentines for our elected officials. Because while some of them are doing their best to give Lady Liberty black eye after black eye in the name of greed and avarice, some of our politicians are doing their best to keep Ms. Freedom in the ring.
I'll have addresses/info and valentine sample scripts for:
1.) Elected officials who have made a public and principled stand against the current administration's dangerous and hateful policies – let's tell 'em thank you.
2.) Politicians who can be wishy washy and need some reminders from us of what's at stake – they need to wake up and fight for us.
3.) Those in power who have been proven to be overtly racist, homophobic, misogynist, rapacious, eugenicist, contemptible people – they must be called out, they must be taken to task.
ALL of these valentines are cute as the dickens… they just have um… different words attached to them, as seen here in this example I've posted. Some of the valentines are mean, but… you know, making sweeping general unconstitutional bans that strand desperate people at airports for over 20 hours without food, and then maybe later down the line cause them to lose their lives… well, that's not just mean, that's absence of human decency.
So, in between writing checks, making all the phone calls, getting into local politics, and stockpiling green beans in the basement and preparing crops for your apocalypse garden… come in and make a valentine. It's your first amendment right to say what you want to say, exercise that free speech muscle!
Because this is Craftivism. We're fighting for America with glue sticks, paper scraps, and sparkles, come in and make your voice heard, I've got stamps.
See you at the Craft Table,
JP Craft Captain
---
Upcoming CraftNights:
Feb 15th – Snowflake Necklace – Are people calling you a sensitive snowflake? Let's wear our winter jewelry, be snowflakes, and make an AVALANCHE to crush the alt-right menace!  
Feb 22nd – Winter Wishes Keepsake Box – Who loves the sun? Not us, it's still winter! Keep small treasures in this gorgeous lil' box!
March 1st – Snow Person Action Figure – Sliding down the mountainside on a S'more, no less!
CRAFTIVISM APRIL: Protest Poster Painting Party #2 where we prepare for the TAX DAY DEMONSTRATION.
---
MORE Things:

 
FEBRUARY 8th: CRUISE at The Eagle – Just down the street from Akbar and CraftNight is another watering hole you'll want to visit! There'll be lip-syncing contest hosted by Tony Soto • Spankings and play from Backroom Mistresses, Bootblackers, DJ tunes, maybe take a friend a homemade political craftivism valentine made at CraftNight!  >>>Facebook Link
FEBRUARY 10th: QUEER PROM at the Sweat Spot! – We could all use a little more LOVE right about now given the current political climate and walking into an unknown future. Join us at Queer Prom to raise spirits, glasses & money for a local charity we will choose as a community. $15 Tickets
Tickets available at: http://queerpromla.brownpapertickets.com/
FEBRUARY 23rd: sSISTERSs: An Experimental Musical – A new punk musical about three sisters who may or may not be witches. Trapped in the drawing room of an old Victorian house, they take on famous triads in a psychedelic, stream-of-consciousness trip through time that explores shifting ideas of sisterhood. Who gets to be seen as a sister, and why? With a live band, haunting three-part harmonies, and throwbacks to the secret rituals of girlhood, sSISTERSs explores memory, family, mortality, queer feminist identity, and the struggles of being a woman artist.
Written and Directed by Gina Young • Facebook Link!