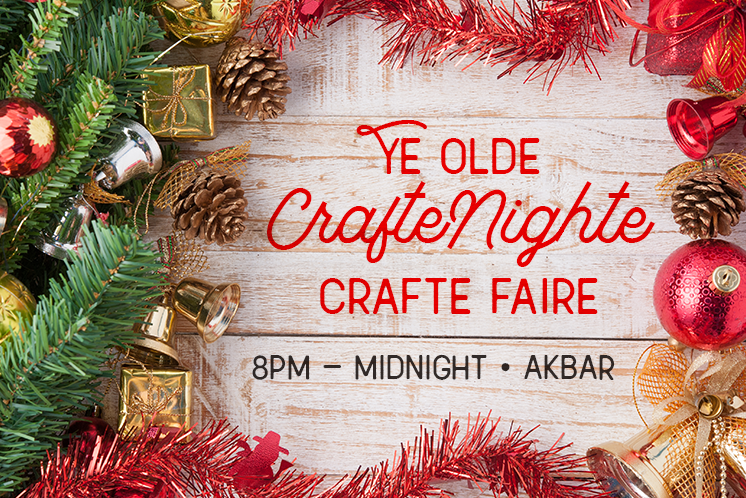 Wednesday, December 13th, 2017 at Akbar SPECIAL 8pm START TIME!!! 
****8pm – 12pm >>>Crafte Faire Opens with Local Vendors!   
*****9pm The Ukulele Orchestra of the Western Hemisphere Serenades us!
******9pm (ish) Make a Felt Vulva Ornament with the Audre Lorde Womens Health Center!  
Who doesn't love celebrating holiday traditions with vulvas, hot drinks, and ukuleles? We've got all that AND MORE for the LAST CraftNight of 2017 at Ye Olde CrafteNighte Crafte Faire!
We'll have pins, magical spell jars, quilts, buttons, holiday fascinators, skincare products, stained glass jewelry, ceramic art pieces, pottery, clothing, skivvies, pasties, Sno-Globs, and scads of other fabulous gift items for you to purchase! We've got music, fanfare, holiday drinks, including a very special HOT DRINK SPECIAL (which we almost never do!), and it's just going to be a warm and festive and fun night in the bar. More info on vendors etc. on the FB Event! 
The treasure we have at the end of the year, and all the years to come, is each other. While the external whirling and twirling forces of the planet bring us all of the many things they bring (both easy and difficult) may we always be aware of how we can help, soothe, delight, and bring cheer to one another. The wintering sky beckons you toward an enclave of cozy community, a smattering of loving pickled souls on twinkling Sunset Boulevard. Get your butt in here and have a hot cider already because wherever you go, there you are. Give yourself the gift of a hug from us!
See you at the Craft Table,
JP Craft Captain
---
DECEMBER ANTICS!  
SAME NIGHT>>> Take a short walk down to The CRUISE Holiday Bazaar at the Eagle to drink more and shop more! They've got Jen DM spinning, there will be boot-blacking, vendors selling leather goods, locally made pins, and other sexy stuff, it's DRANX & SPANX! More info here on the FB Event Page! 
---

December 17th • Akbar • 7pm to 10pm • BET YER BOTTOM BINGO!!!! • It's boys, girls, ballz, holidaze crazy daze one wild night at your favorite watering hole for the worst jokes and the BEST PRIZES!!!  >>> FB LINK
---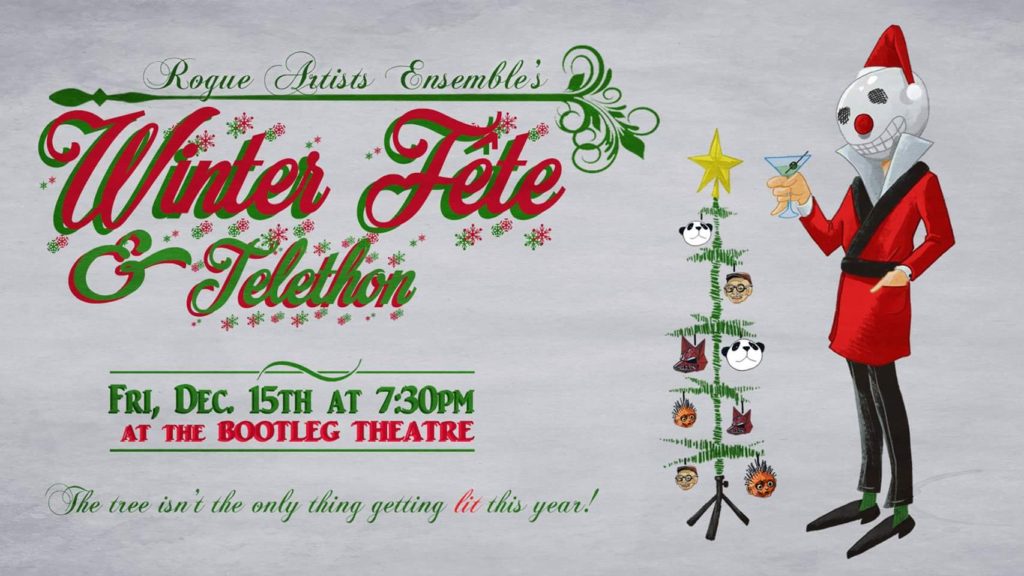 Our Friends, Rogue Artist Ensemble, is having a Fundraising Telethon! It's a show and a party and a fundraiser for their next season! "The tree isn't the only thing getting lit this year! Rogue Artist Ensemble's 4th annual holiday extravaganza fundraiser takes the retro holiday variety show to the next puppet level! Featuring naughty and nice puppets, never-before-seen cabaret performances, original songs, kooky characters, open phone lines answered by hungry puppets, the Rogue Holiday Boutique to find that perfect gift and a slew of odd-ball activities for your hands-on amusement, the Winter Fete & Telethon immerses you in the frosty, whiskey-soaked madness of the holiday spirit." 
Presale tickets $20 • Tickets at the door $25 • VIP $50 – Buy Tix Here 
FB Event Page HERE