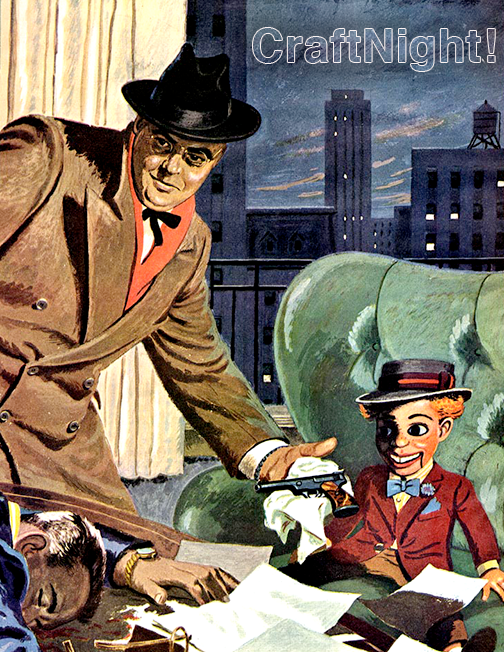 TONIGHT! Wednesday, Jan 20th, 2015 from 9pm until midnight (or later) at Akbar, it's CRAFTNIGHT!!!
Project: Magnets 
$3 Processing fee, please
$4 Drink Specials at Akbar: Hands on your hips, a smile on your lips, spirit in your heart, we're ready to start! 
It occurred to me that CraftNight really has a LOT of magnet backings. This means we're rolling up our sleeves and making DIY magnets for your refrigerator or wherever else in your life needs a magnet. Magnets are great, they let you do so much without any constraints. Here you have an object that affixes another object (usually paper) to a surface temporarily. Temporary as in NO commitment as in FREEDOM and no hassles and your life and YOUR choices. How great is that?
When you hand a piece of paper to someone, they have NO IDEA how long it was kickin' around on your fridge before you finally got around to giving it to the recipient. The meaning and purpose of your busy and engrossing life is affirmed and bolstered by the magnet's quiet fortitude. This means you should make some magnets at CraftNight as soon as possible to get started living a wildly unencumbered actuality that will enable you to blossom and excel.
We have flat, colorful foam and beads and shapes for which you can form your magnet. Here are some magnet ideas:
1.) Puppy Face Magnet
2.) Magnet that says "NOW" to remind you of what you need to do NOW. Maybe another one that says "SHEESH."
3.) Bring a small photo and make a frame around it and boom it's a magnet!
4.) Your own magnet poetry kit
5.) All bad words, just all of 'em
6.) Exquisite corpse magnets, lots of heads, torsos and feet: interchangeable!
7.) Annoying slogans or meaningful um, quotes.
8.) Foods: Donut, hot dog, sushi, noodles
9.) Giant capital letters (this seems to be trending)
10.) Squids, Owls, Deer, Birds, Llamas, Otters, Monkeys, Lemurs, Pandas, Bisons, Eagles, Ponies, Sharks, Lobsters, Cows, and Ducks
See you at the Craft Table!
JP Craft Captain
WHAT THE FUTURE HOLDS  

NEXT WEEK January 26th BINGO: Tuesday 8pm to 10pm it's Bet Yer Bottom Bingo with the big bad prizes you've come to love us for, so come on in and try your luck with booze, girls, boys, balls, it's the best in neighborhood gay bar gambling!
*January 27th CRAFTNIGHT – Groundhog Day Paper Dolls
**February 3rd CRAFTNIGHT – Mardis Gras Disguises
***February 10th CRAFTNIGHT – ANNUAL CRAFTNIGHT LOVE-IN!!!!
Ohhhhh the LOVE-IN!!! • Featuring the LOVE RAFFLE (Mad mad prize baskets), Valentine Snacks, Cute Friends, Hot Strangers and MORE!