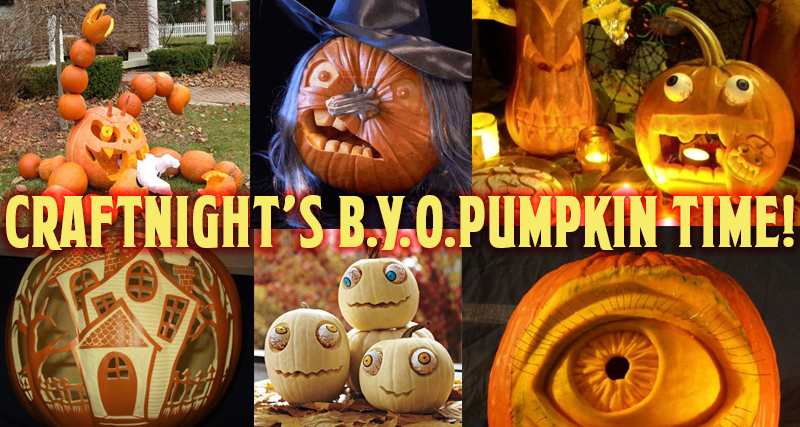 TONIGHT! Wednesday, Oct. 28th, 2015 from 9pm until midnight (or later) at Akbar, it's CRAFTNIGHT!!!
Project: B.Y.O. Pumpkin Carving Night!!!
$3 Processing fee, please
$4 Drink Specials at Akbar: Drink Well, Spend Less. 
CURRENTLY ON VIEW Gothtober.com is up and running, 31 days featuring 31 artists, look at it on your phone, your tablet, your laptop! 
It's a CraftNight Halloween favorite, where we actually seriously officially condone drunk people with knives once a year! If we survive tonight's terrifying CraftNight, we'll be back next week with the first in a series of ThanksCrafting projects! Halloween movies will be playing on the Akbar Jumbo-tron, Halloween music will be playing through the Akbar Hi-Fi, and we will have CANDY and TREATS and FUN and DRINKS and more!
If you BYOP (Bring Your Own Pumpkin), then $3 will get you VIP (Very Important Person) access to the Craftnight pumpkin carving tools, unlimited Craftnight PDCs Premium Drop-Cloths, clearance to use Craftnight SHDPGBs (Super-Heavy-Duty Pumpkin Gut Bags), and executive networking access to CORs (Changemakers of Our Region), who will also be carving pumpkins alongside you!  Trust me, friends, nothing breaks the ice with a potential business colleague than accidentally flinging pumpkin guts onto their blouse.
BYOP! (Bring Your Own Pumpkin)
CYOP! (Carve Your Own Pumpkin)
DBYOPCT! (Don't Bring Your Own Pumpkin Carving Tools)
DCOPP! (Don't Carve Other People's Pumpkins)
COPP-OIYHATCTP-ATHSY? (Carve Other People's Pumpkins Only If You Have Asked To Carve Their Pumpkin and They Have Said Yes).
SCOPP-ITSNAAT-EITHOSY!! (Stop Carving Other People's Pumpkins If They Say "No" At Any Time, Even If They Had Originally Said "Yes").
JP Craft Captain
www.crafthead.com
www.akbarsilverlake.com