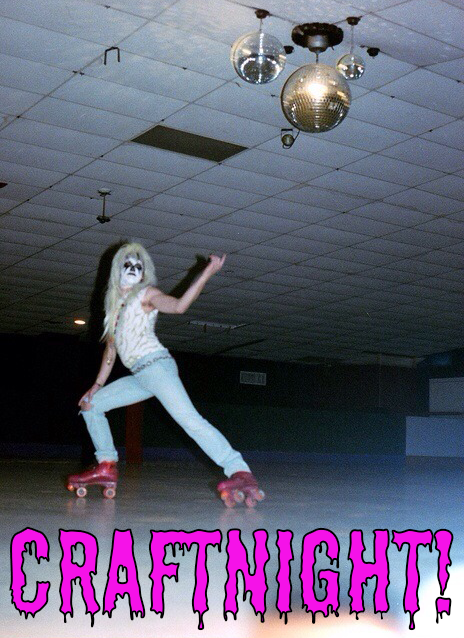 This Wednesday, October 25th at Akbar from 9pm to midnight or later it's CRAFTNIGHT!!!
****Project: BYO-Pumkin CARVE-O-RAMA! 
*****$3 Donation Please 
******$4 Drink specials! Akbar: Sass in a Glass since the Gay 90s, Dahling! 
STEP ONE: Find a Pumpkin! 
STEP TWO: Bring your Pumpkin to CraftNight! 
STEP THREE: Use CraftNight's tables, trash cans, carving tools! 
There is only ONE night that I permit the KNIVES with ALCOHOL at CraftNight, and THIS IS IT! Bring in your pumpkin, and we'll supply the implements of destruction and the cocktails! I'll have a candle for your Jack O' Lantern, and we can take photos of all our carved masterpieces together. I'll have some spooky Ambience going for you, from music, to something strange playing on the Akbar jumbotron. It'll be a rollicking good time, hope to see you there! And yeah, you've got to BYO-Pumpkin because I can't be toting 20 pumpkins all over LA, there's no room in a Lyft for such battiness!
See you at the Craft Table, JP Craft Captain
ART! SEE IT RIGHT NOW on your PHONE, YOUR LAPTOP, WHATEVER:
GOTHTOBER 2017 Visit www.gothtober.com and see 31 works by 31 different contributors, each day a new one revealed! Works by Akbar bartenders, David LeBarron, Kimberly Kim, and Jennifer's pup "The Stig" on the horizon! It's all online, you don't have to go anywhere or do anything, watch from your phone, your tablet, your desktop!
---
UPCOMING!  
NOVEMBER 1st: ALLURING BEADED CORN CRAFT
NOVEMBER 8th: ENGAGING HAPPY HARVEST OWL PENNANT
NOVEMBER 15th: HAND TURKEYS (An Annual CraftNight Tradition)