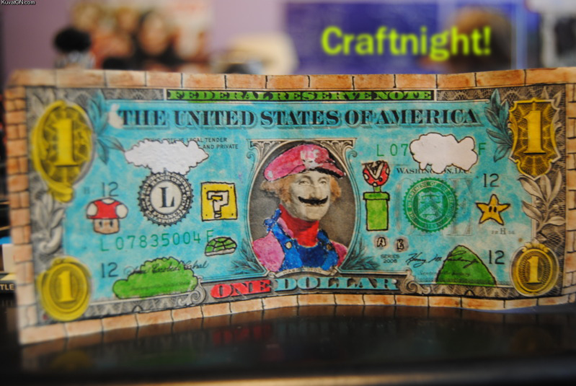 This Wednesday, January 25th, 2012 from 9pm until midnight at Akbar it's CRAFTNIGHT!!!
Project: Beaded Flower Clip
$2 Processing fee, please!
$4 Cosmopolitans! Think with a pink drink!

If you're procrastinating on the internet, I'm glad the series of tubes brought you here to the CraftNight site, where we're going to be REALLY INTO BEADS this week. Bring your procrastinating self over to Akbar, and use our activity as a gentle distraction from whatever ELSE you're "supposed to be doing."
CraftNight endorses a bit of vagueness, confusion and fuzzy-mindedness.
Enhanced clarity isn't everything.
You see, I have news for you: You're never going to catch up. There will always be more paper, people, pineapples and peanuts to deal with in the course of your lifetime. Levels of efficiency and quality will always be part of the great cyclical whirlwind of stuff that permeates the daily joys of existence. It's not about cutting out the fun, it's about balancing the drudgery with the funnery in a way that makes you throw your hat in the air like Mary Tyler Moore on the Mary Tyler Moore show.
I'm not saying "Don't plan things" since, as we all know, taking 10 t0 12 minutes to plan one's day saves the average planner 100 to 120 minutes! I'm saying maybe "Don't plan things ALL THE TIME and HAVE SOME FUN" since, as we all know, sticking to the plan all the time is kind of boring, and routines are meant to be broken.
Besides, I have an important task for you, it's so important, you'll have a burning desire to start and finish it, which will kickstart your endorphins into overdrive and get you addicted to starting and finishing other things! It's called a beaded flower clip, it involves (duh) beads, and you can either string'em together into the awesome shape of a flower, or just get crazy and make whatever you want out of the materials!
Make a necklace make a key fob make a dangling groovy handle for your backpack zipper!
Give it to your friend, give it to your lover, give it to the butcher the baker the candlestick maker!
This flower is going to start you on the road toward ultimate productivity, but ONLY if you STOP productivity NOW to procrastinate on your projects in order to come join us and play with this project.
Taxes can wait.
The cat can wait.
Your boss can wait wait wait.
You'll have such a positive experience making this flowery thing, you'll have guaranteed results!
Develop the habits of success! Make a beaded flower clip! Come to CraftNight and be a winner! Wooooooooo!
See you at the Craft Table,
JP Craft Captain