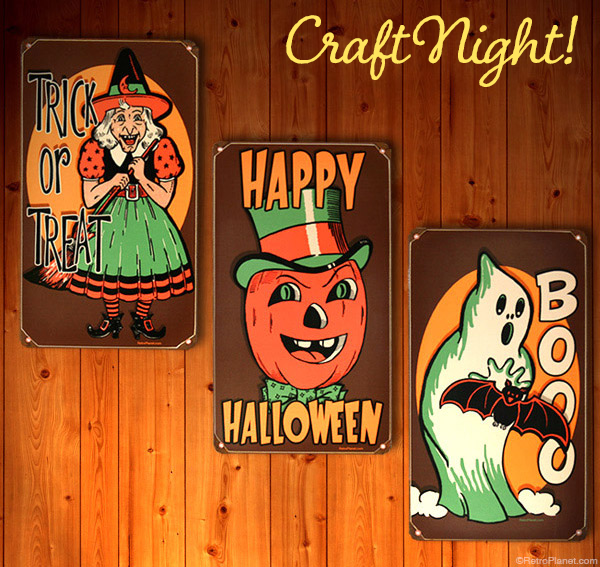 TONIGHT! Wednesday, October 19th, 2016 from 9pm until midnight (or later) it's CRAFTNIGHT!!!
Project: 3-D Haunted House Craft! 
$3 Donation Please 
$4 Drink specials! Akbar: Rise Up, Move Ahead!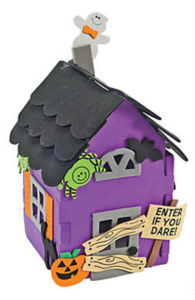 Build your own little purple piece of real estate at CraftNight tonight, it's 3-D Haunted Houses!!! Assemble it yourself, lots of foam pieces AND lots of EXTRA foam pieces I've gathered from craft travels. I've got eyeballs, witches, cats, bats, ghosts and MORE! You can really dress this up, makes a great table centerpiece or place to hide your hide-a-key, or part of the fascinator you've always wanted, or throw it in the city fountain and watch it float!
Halloween is on the horizon, don't be caught without decorations, most notably, the aforementioned one above that is a LOT of fun to make! Halloween decor is the best, because it's not smarmy, overly sentimental, too scrumply, or outrageously expensive. Some of it comes with complicated wiring, electronics, fog, or lights. It's the time of year where green scaly hands and snot are in fashion! The more discombobulated you can make your guests with frightful accents, the better! This is also the time for weirdo food items, stuff's allowed to be atrocious and delicious at the same time. What's more, at the end of this month, you can basically knock on ANYONE'S door at night, say "Trick or Treat" and they give you candy… or a rock… or cough drops… hopefully candy. Tonight we'll have some candy in a candy dish that, if you want, we can teach you how to make at CraftNight LAB next week on the 26th. It's special. Read below for more info.
Also next week at 9pm it's BYOPumpkin carving, so get ready for that, get your pumpkins together, and come on over where we'll have knives, tarps and candles! Who let's you get drunk and play with knives? CraftNight!!!
See you at the Craft Table,
JP Craft Captain
---
NOW AND COMING SOON:

Visit www.gothtober.com which is our way of sharing the Autumn season with you! We host 31 days of online art treats, a new one revealed with each day! You don't have to go anywhere or do anything, it's viewable on your phone, your desktop, your tablet, YAY!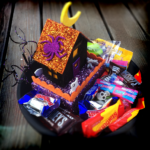 October 26th 7pm – 9pm @Akbar – CRAFTNIGHT LAB!!! Ticketed Event Craft Workshop with Food and Special Treats! Project: Lighted Fright House Candy Dish >>> Learn More Here!
9pm – Midnight or later @Akbar – B.Y.O.P. Pumpkin Carving! (We supply the tools, you supply the squash, or you can order one from us and we'll have it ready for you)