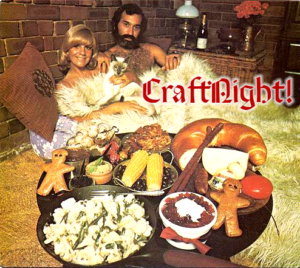 TONIGHT! Wednesday, November 15th, 2017 at Akbar
7:45 – 8:45pm QUEER SELF DEFENSE w/Instructor, Cory Klink!
9pm – midnight (or later) HAND TURKEYS with JP Craft Captain!
****Project: HAND TURKEYS (Annual CraftNight Tradition)  
*****$3 Donation Please 
******$4 Drink specials! Akbar: Friends, Fun, Beverages! 
Tonight you can use your hands as weapons, and then, in the same night, use them to make TURKEYS!
Chances are, if you grew up in the continental united states or something like that… someone grabbed your kindergarten paws and taught you how to make a hand turkey. If you have never made a hand turkey, it's really high time you made one. It is a simple creation, or it is as complicated as you decide to make it, but it's just one of those crafts that stands the test of time. It's a classic.
You can make a colorful turkey, a goth turkey, a pastels turkey, a hand drawn turkey, a day or night turkey, and then you can send it to a friend, or present it to relatives next week as a testament of your love and adoration for them. We won't be doing crafts next week, due to Akbar's annual dance party and food drive. This means if you're hankering to craft, do it this week, and we'll be back on November 29th with very much fun seasonal cozy crafty fun for you!
See you at the Craft Table,
JP Craft Captain
---
NOVEMBER FUN!  
TONIGHT! 7:45pm – QUEER SELF DEFENSE – FB EVENT DETAILS HERE
9pm – CraftNight HAND TURKEYS!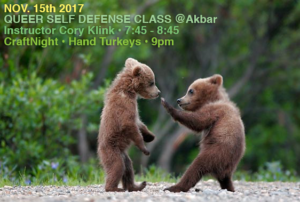 NOVEMBER 19th: SUNDAY 7pm @Akbar • Bet Yer Bottom Bingo Facebook Event Details HERE

NOVEMBER 22nd: NO CRAFTS! Akbar's Annual Dance Party: PIE!!! Facebook Event Details HERE