TONIGHT! Wednesday, October 18th at Akbar: 
8pm to 10pm DR. SKETCHY "IT" Halloween Figure Drawing! (see link below: SO MUCH FUN!!)
9pm to midnight or later it's CRAFTNIGHT!!!
****Project: Color-Your-Own Calavera! (skull)  
*****$3 Donation Please 
******$4 Drink specials! Akbar: Give an Ice Cube it's moment of glory!
Come on in at 8pm if you want to do some figure drawings, then stick around for our wonderful night of painting beautiful lasercut calavera shapes!
See you at the Craft Table, JP Craft Captain
RIGHT NOW on your PHONE, YOUR LAPTOP, WHATEVER:
GOTHTOBER 2017 Visit www.gothtober.com and see 31 works by 31 different contributors, each day a new one revealed! Works by Akbar bartenders, Kimberly Kim, and Jennifer's pup "The Stig" on the horizon! It's all online, you don't have to go anywhere or do anything, watch from your phone, your tablet, your desktop!
---
UPCOMING!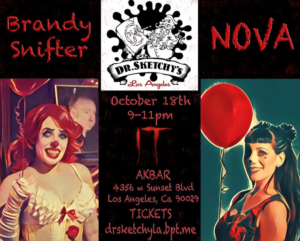 #5 >>>Oct 18th 9pm to 11pm – Dr. Sketchy returns with a really fun and CREEPY Life Drawing Assignment: Stephen King's IT! Get tix and RSVP HERE. CraftNight also begins at 9pm with somethin' halloweenie!

#6 >>> Oct 22nd – Sunday 7pm Bet Yer Bottom Bingo HALLOWEEN STYLE!!! A rotten, putrid, haunted evening of depraved behavior and boozy rewards! FB Event HERE!
Oct 11th – Haunted Lasercut skull shape painting project! Oct 25th – CraftNight's Annual PUMPKIN CARVING Festival! Reserve a Pumpkin or BYOP!!!