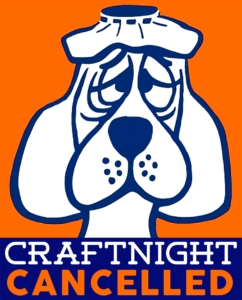 NO CRAFTS TONIGHT! Wednesday, June 14th, 2017 

 

  
I have succumbed to quite the terrible flu. It is a flu you don't want, a flu you don't wish on anyone.
This flu arrived so swift and so powerful that I'm barely a person. My brain can't even parse the idea of a side project or get a sub for tonight, which, if you know CraftNight, is very very RARE. Sometimes you just gotta not do something. This is one of those times.
See you at the Craft Table,
JP Craft Captain
---
are welcome!