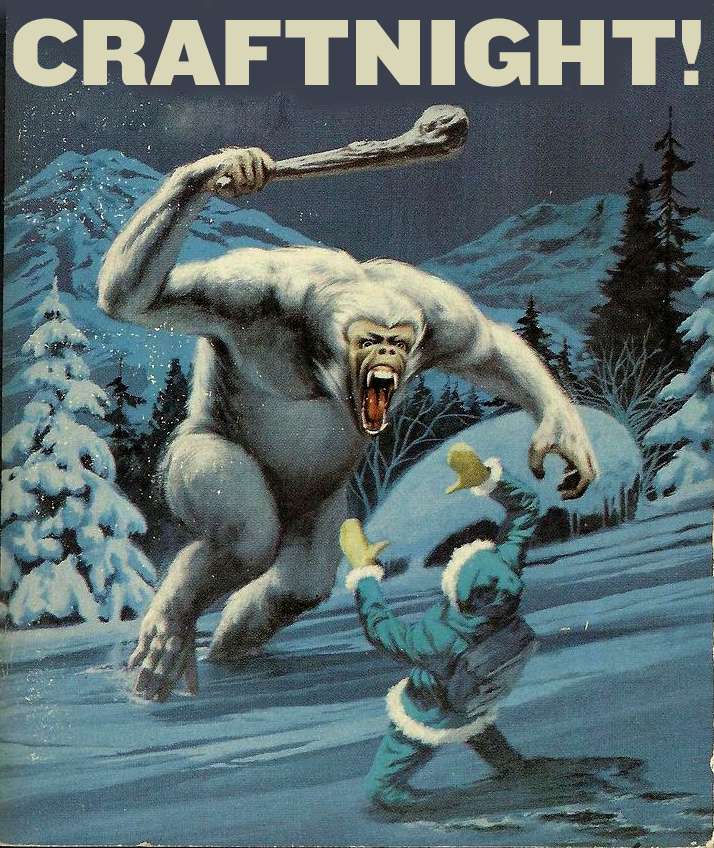 This Wednesday, February 15th, 2017 from 9pm until midnight (or later) it's CRAFTNIGHT!!!
Project: Snowflake Necklaces
$3 Donation Please 
$4 Drink specials! Akbar: Witty. Confident. Devastatingly Queer. 
Snowflakes!
Snowflakes are delicate, they melt easily, every snowflake is different! Snowflakes make snow! If you have enough snowflakes, you can make an AVALANCHE! It's easy for a bully to make fun of one snowflake, it's a cheap shot, and it's based on the moment, not the future. Takes a long time for enough snowflakes to get together to form a strong and cohesive slab of mighty icy matter that is just waiting for the right moment to descent rapidly down a mountainside.
A bully may tread very carefully if threatened with the possibility of an avalanche that's been building for weeks/months/years. If someone tries to insult you by calling you a snowflake, just think about that.
Anyway, I do like to keep with a theme, and it is winter, so here's our project for this week.
I have snowflake jewelry. It's not Nordstrom quality, it's not even Nordstrom Rack quality… it's not even Toy's R' Us quality! It's some seriously basic snowflake accoutrement, it's going to be up to you how ostentatious it is, because the kit I give you is just the start. From drab beginnings comes greatness, and then you'll be wearing your winter bead regalia like a snowflake BOSS.
See you at the Craft Table,
JP Craft Captain
---
Upcoming CraftNights and Bingo: 
Feb 22nd – Snow Person Action Figure – Shredding down the mountainside on a melty S'more, no less!
FEBRUARY 27th: Bet Yer Bottom BINGO!!!! 8pm to 10pm • Akbar • 50 Cents a Card • WIN!!!!
March 1st – Snow Bobble Photo Holder – It bobbles, it holds photos, it'll keep those snapshots organized!
CRAFTIVISM MARCH 22nd: Say it with stickers! Stickers you color, or stickers you make yourself, we're havin' it all, the dissonance is adhesive!
---
MORE Things in Your Town:

 
FEBRUARY 20th: PLANET QUEER: RISE UP! Now is the time to RISE UP and be heard! Art IS activism! Its a SPECIAL EVENING of interstellar QUEER performance hosted by gay centered performance activist IAN MACKINNON. Facebook Link!
FEBRUARY 23rd: sSISTERSs: An Experimental Musical – A new punk musical about three sisters who may or may not be witches. Trapped in the drawing room of an old Victorian house, they take on famous triads in a psychedelic, stream-of-consciousness trip through time that explores shifting ideas of sisterhood. Who gets to be seen as a sister, and why? With a live band, haunting three-part harmonies, and throwbacks to the secret rituals of girlhood, sSISTERSs explores memory, family, mortality, queer feminist identity, and the struggles of being a woman artist.
Written and Directed by Gina Young • Facebook Link!