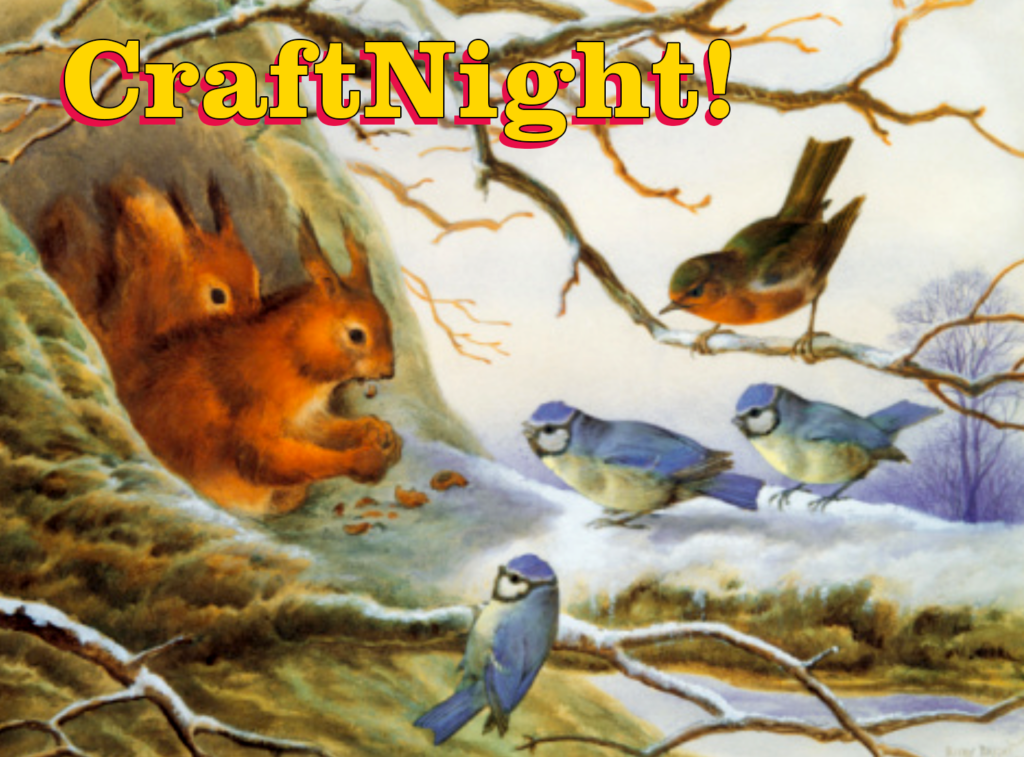 This Wednesday, January 25th, 2017 from 9pm until midnight (or later) it's CRAFTNIGHT!!!
Project: Winter Birdhouse Thermometer Kit


$3 Donation Please

 
$4 Drink specials! Akbar: The Antidote for Civilization  
In other news, it's been cold outside. How cold is it?
Maybe right now you don't know, but if you put together this craft at CraftNight, you'll definitely know! This kit's got it all: a house, a thermometer, a googly-eyed bird, shiny glittery pieces, everything you need to make a small vignette depicting wildlife, abodes, and temperature. There will be other little showy bits for you to embellish your craft at will, so come in from the cold, warm up, and enjoy a craft and a cocktail!
Every month CraftNIght will do at least one "Craftivist" night to bring awareness and momentum toward civic engagement and change for the good of our planet and its inhabitants. These are liberal-minded, leftwing progressive evenings held at Akbar Mission Control: Special Forces Homosexual Unit with Queers and Queer allies. Don't say we didn't warn you. Here's what you can expect in the months to come:
On February 8th, we're having the Annual CraftNIght Love-In. This year we're sending valentines to Jerry Brown and other politicians fighting for the issues we care about, and also sending Mike Pence valentines of private parts hugging each other, with
LOTS

of glitter.
March's Craftivism is TBD, but in April, we'll be having Protest Poster Painting Party #2 where we prepare for the TAX DAY MARCH.
See you at the Craft Table,
JP Craft Captain
---
Upcoming:
NEXT WEEK! 

Wednesday January 30th • 8pm • Bet Yer Bottom Bingo! ~~~~ The Winter Hearth Edition. We kickoff the year with numbers on balls, cozy and toasty,  just the way you like it! Win big bottles o' booze and other goodies! Bottles Prizes: 3 Olives Blueberry Vodka, Crown Royal Vanilla, Jack Daniels Tennessee Fire Whisky, Ketel One Lorange! 

---
FEBRUARY 23rd: sSISTERSs: An Experimental Musical – Anew punk musical about three sisters who may or may not be witches. Trapped in the drawing room of an old Victorian house, they take on famous triads in a psychedelic, stream-of-consciousness trip through time that explores shifting ideas of sisterhood. Who gets to be seen as a sister, and why? With a live band, haunting three-part harmonies, and throwbacks to the secret rituals of girlhood, sSISTERSs explores memory, family, mortality, queer feminist identity, and the struggles of being a woman artist.
Written and Directed by Gina Young • Facebook Link!