TONIGHT! August 31st, 2016 from 9pm until midnight (or later) at Akbar, it's CRAFTNIGHT. 
Project: Kit Craft Crazy!
$3 Processing fee, please
$4 Drink Specials at Akbar: Like a Good Neighbor, Akbar is There! 
Unwind, relax, have a moment away from the rat race, and the rats. Unwind your mind with icy cocktails and cool crafts as we bid August a fond farewell and prepare for the next month. I have craft kits galore, they are pretty adorable, very 3-D, featuring woodland creatures, some of them foam, some of them felt, ALL of them darling!
See you at the Craft Table,
JP Craft Captain
---
MORE THANGS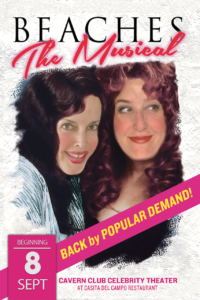 BEACHES IS BACK! FOUR SHOWS ONLY Starting September 8th! 
We had such an enthusiastic clamoring of "Please oh please bring it back" that we DID! Grab a chimichanga, a friend, a drink and then wander downstairs with another drink to catch some captivating, campy FUN! We've got it ALL: Music, HAIR, and outfits from 1988! Relive the magic, camp, and queer/lesbian backstory! Dance! Sequins! Tears!
ALLSTAR CAST: Linda Pinda, Nancy Kissam, Mike Rainey, Matt Stevens, & Josh Fielstra on keyboard!
Directed by Julianna (JP) Parr <<<< That's ME, your Craft Captain, OMG!
CAVERN CLUB THEATER at Casita del Campo!
Learn more and get tickets NOW! 

COMING TO YOU  IN FALL: CRAFTNIGHT LAB SEPTEMBER 21st ***LIMITED ENGAGEMENT!***  
An early evening craft experience with hors d'oeuvres, cocktails, high-end supplies and step-by-step guidance by JP to make a finished project!