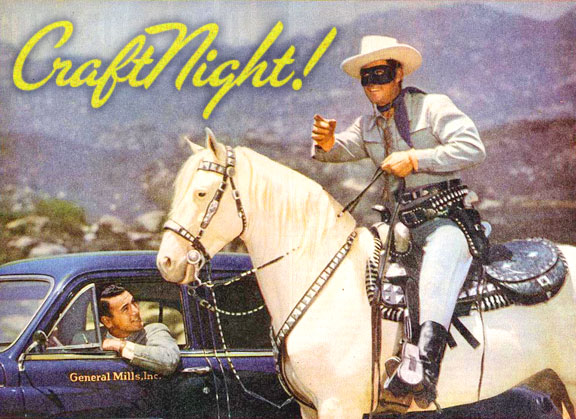 TONIGHT! Wednesday, August 4th, 2010 from 9pm – midnight at Akbar, it's CRAFTNIGHT!!!
Project: (fake) Marshmallow Cowboys!!! $2 processing fee, please!
Who said bigotry was all the rage? PROP 8 BIT THE DUST TODAY!!!
Here are some places you can go to support today's victory:
Los Angeles Prop 8 Rally (West Hollywood) 6pm – 8pm • West Hollywood Park 647 N San Vicente Blvd. West Hollywood, CA 90069
Latino Equality Alliance's Community Prayer for Social Justice 8pm – 10pm • Olvera Street, Downtown Los Angeles
Events in Long Beach, Inland Empire, Palm Springs, SF, etc.
And, obviously, it doesn't end here, we've got November coming up, and all that stuff, so roll up yer sleeves and get ready to defend some civil rights!
ON THAT NOTE:
We're making cowboys. I thought they were cute. They are cute. They have this kind of weird "fake marshmallow" thing happening which I don't quite understand, but am ready to embrace. I used to think it was kind of dumb, using "fake" marshmallows to make stuff, but I'm changing my tune. There's a lot of room here, on the open craft plain it doesn't HAVE to be a cowboy, it can be a COWGIRL, or you can change it to some dude rancher from Australia, or reverse the whole thing and take the pieces and make them into a hovercraft! Whatever you want to do, we're here to make it happen.
Cowboys are so old-fashioned, and not perfect, but they sure do have good hats. The archetype of the cowboy's rugged individualism (and screwed up Manifest Destiny that goes along with that) is deeply engrained in the American psyche. Again, like with the weird "fake marshmallow" craft thing, I'm not sure how poking and prodding cows from one end of the country to the other results in a higher moral consciousness, but like many things that make no sense at all, here we are. OG Cowboy code subscribes to being a good worker, being gentle with children, the elderly and animals, being a patriot, not advocating or possessing racially or religiously intolerant ideas… you can see how this code can be twirled into anyone's ethical standards. Nobody ever seems to talk about how dirty cowboys really are, how they smell like BO and horse turds, how they have horrible manners and cheat at cards. The fallibility and courage of the cowboy is perhaps what makes cowboys so loveable. So tonight, come on in and make your dirty rotten scoundrel, hat and all. Perhaps  you can make him a little hay bale.
Mamas, don't let your babies grow up to be cowboys, they'll never stay home and they're always alone, even with someone they love.

Cowboys ain't easy to love and they're harder to hold, and they'd rather give you a song than diamonds or gold, Lonestar belt buckles and old faded Levis

And each night begins a new day, and if you don't understand him and he don't die young, You'll probably just ride away

-Willie Nelson
See you at the Craft Table!
JP Craft Captain