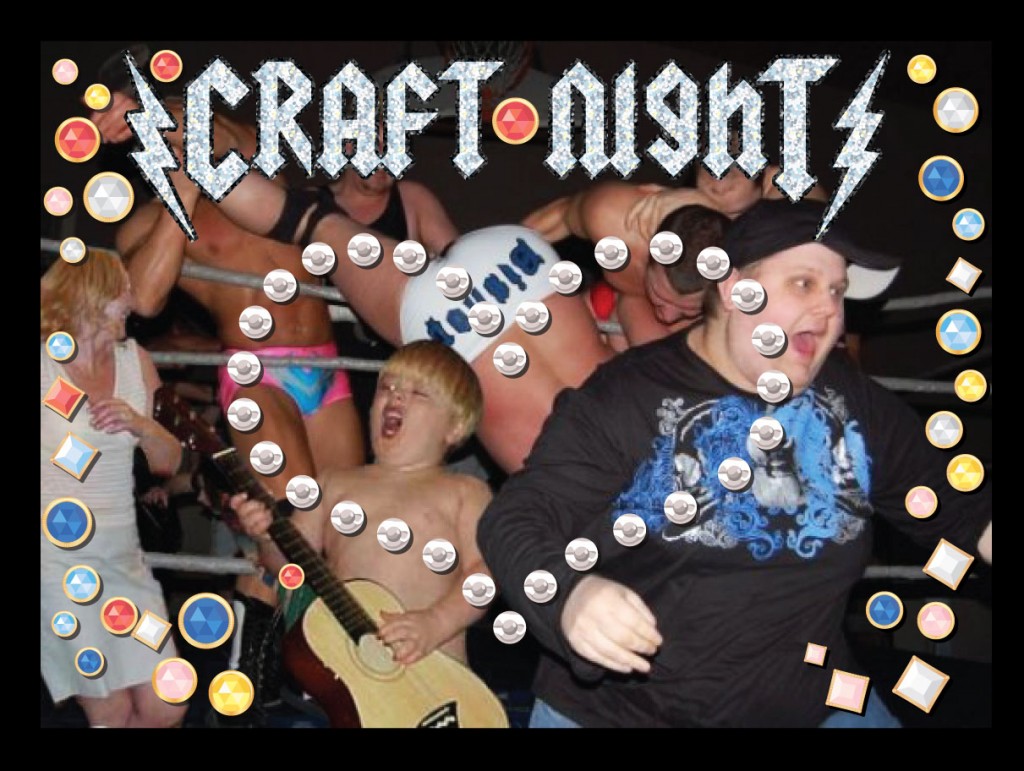 TONIGHT! July 14th, 2010 from 9pm to midnight at Akbar, it's CRAFTNIGHT!!!
Project: Weird Square Dream Catchers!
$2 processing fee, please
Note: This week's beautiful and amazing CraftNight flyer is brought to you by Sarah Williams, Echo Park resident, artist and Craft Enthusiast and currently the maker of the largest handmade picnic blanket in existence. I think it's so big you can see it from Google Maps. Thank you, Sarah! Seriously, the more you look at this CraftNight flyer, the more new things you find, it's endlessly entertaining!
Another note: I'm directing a puppet show called PASTA The Musical starring The PopUps! It's a kids show, but honestly, the age range is from 2 to 192, it's a rock-n-roll showstoppin' foot stompin' 45 minute educational romp involving live drawing, mermaids, guitars, singing and all manner of crazy good-time entertainment! The shows run from July 21st to the 25th, here'sPopUps INFO and here's where you can get more info and TICKETS. PLEASE COME SEE IT! It's really good, I'm totally bugging you about it because it's MEGA-FUN and you won't want to miss it!
NOW THEN: Weird square dream catchers, the beautiful and practical accessory for your home is here! There are a lot of different kinds of dreamcatcher crafts out there, but I sort of splurged and settled on the weird square variety. Why did I do that, you may ask? Because the weirdness of how this thing was designed is more conducive to experimentation and also: it comes with feathers and an imitation leather cord.
The makers of the weird square dream catcher craft kits decided that you needed a place to write your name on it, presumably so that your dreams know where to go once they leave your head. You wouldn't want the vestiges of your subconscious to get entangled in some other dream catcher nearby, that would be totally mixed up! So in the middle of the dream catcher, you can stitch this foam, web-shaped (suggestive of what might've been part of a treated animal hyde back in the long-ago) surface and you can follow their suggestion and write your name on there OR you can draw a picture of a wolf head, or some clouds, or whatever you want! That's right, it's part dream catcher, part exciting tableau! And don't forget: The imitation leather cord. I had to mention it again because it's so exciting. And feathers. And beads.
See you at the Craft Table!
JP Craft Captain